Pi, a pizzeria company based in Winchester, UK, is raising £500K via Growthdeck, a private investor platform which has raised growth capital for companies as diverse as the shower technology company Kelda Showers, and Pinkster, a raspberry-flavoured gin business. At this writing, over £129,900 was secured from 7 investors for a piece of the Pi.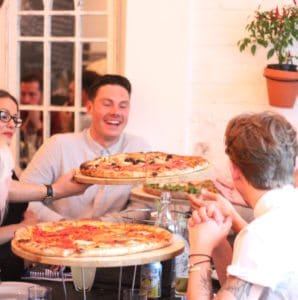 "We are so proud of what we have achieved over the last 2 ½ years. We believe we have created a concept which is unique in today's market," shared Pi Founder and MD Rosie Whaley. "As well as sticking true to what we know to be fundamentally most important – to always strive to make the best pizzas, using quality ingredients. The origin of our ingredients is essential to us and everything on our menu is made on site. We think that it is an ideal format to take to London. Diners are very keen on pizza – but there is clearly a move towards innovative, artisan offerings, as opposed to the more sterile formats of the high street chains."
Launched in late 2014, Pi has grown strongly and attracted a loyal customer base which gives the restaurant consistently favourable reviews. In the year to 30 April 2017, the business achieved sales of £415K and posted an operating profit of over £27K. The £500K is offered to investors in two strips – £250K of EIS-qualifying equity and a secured loan of £250K paying interest of 8% per annum. The equity strip offers investors the prospect of 8.3x money return after the benefit of 30% initial income tax relief.
Kevin Bacon, co-founder of Frankie & Benny's, former MD of Jamie Oliver International, and former Group MD & board member of The Restaurant Group, and Kim Hayward, senior partner at BDO, the leading advisory firm, and previously a partner with Ernst & Young, will join and advise the Board.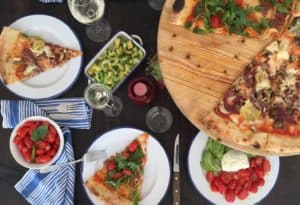 The Pi format is based on 20" inch sharing pizzas. Whaley and her team of pizzaiolos (pizza chefs), have created a menu balancing innovative flavors with more traditional offerings. Customers can choose up to three flavor combinations on the sharing pizza. This style of dining, with the pizza served on a raised wooden board in the middle of the table, also makes for a fun and social eating experience. Everything is freshly made on site, including Pi's signature dough – which is fermented over 72 hours to produce a light, lean and crisp pizza base.
In preparation for launching her vision of an innovative pizza format, Whaley worked in Florence, Italy, for a top pizzeria and gaining insight into Italian pizza restaurants operations. She returned to the UK with what is now her team of skilled pizzaiolos. Whaley comes from a fashion background, which is evident in the creative design and décor of the Winchester location.
In recent years dominant chains, such as Pizza Express, Strada and Zizzi, which account for 90% of the total market, have been reporting declines in like-for-like sales, despite the sector having grown by over 20% since 2010 (e.g. Pizza Express down 1% in 2016 and 1.3% in 2015). New entrants, offering more innovative artisan products are gaining market share as diners look for something different. Notable new players include Pizza Pilgrims and Franco Manca, both mainly focused on the London market. Over the past 9 years, Franco Manca has grown to 36 restaurants, whilst Pizza Pilgrims has opened six larger units (up to 170 covers) in Central London. Pi is well placed to compete alongside the new breed of pizzerias in the £2bn-per-annum UK pizza restaurant sector and capitalise on growing consumer demand for more artisan offerings.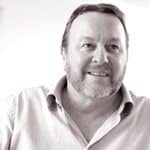 "Rosie's created a great concept with Pi and the business has made impressive achievements in a short space of time," added Growthdeck Head of Investment Gary Robins. "Kevin Bacon is a great addition to the Board – he brings invaluable expertise on site selection, planning and competitive strategy. Likewise, Kim Hayward has extensive experience of advising early stage and growing companies on fundraising and business strategy, and he has played an advisory role to the founders since the launch of Pi. With Pi, we have an innovative offer for investors – equity, loan, or both. It's your choice – equity and debt can be selected separately, so you can build your own mezzanine investment. We expect the Pi investment to complete in July."

________________________________________________________

Have a crowdfunding offering you'd like to share? Submit an offering for consideration using our Submit a Tip form and we may share it on our site!

Sponsored Links by DQ Promote