Online lender for SMEs, Funding Circle, announced this week it expanded its U.S. leadership team by appointing Joanna Karger as U.S. Head of Capital Markets and Richard Stephenson as U.S. Chief Compliance Officer.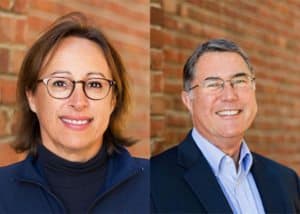 Karger, who notably has 30 years of experience working in capital markets, comes to Funding Circle from Renew Financial, where she served as EVP of capital markets and chief financial officer. She held positions at the U.S. Treasury, Allianz, and McMorgan & Company.
Before making his way to Funding Circle, Stephenson was chief compliance officer at Silicon Valley Bank. He has more than 30 years of experience in various senior roles at U.S. financial institutions and law firms. He has served as general counsel, chief compliance officer, chief risk officer, head of internal audit, and interim chief executive officer at Bank of America, Union Bank, Washington Mutual Bank, and Mechanics Bank.
Speaking about the appointments, Sam Hodges, co-founder and U.S. managing director at Funding Circle, stated:
"Joanna and Richard have deep experience in building and scaling robust financial services businesses, and we are thrilled they will be playing integral roles in Funding Circle's continued growth in the U.S. market. With their leadership, we will continue to invest heavily in compliance and operational controls, and focus on further diversifying the capital streams flowing into our growing marketplace."
Karger commented:
"Funding Circle provides an opportunity for individual and institutional investors to share in the success of America's small businesses. I look forward to bringing this unique asset class to an even broader range of investors as we continue to diversify our capital base and build a strong, sustainable and transparent marketplace."
Stephenson added:
"A thoughtful approach to legal, regulatory and compliance is one of the important factors that sets Funding Circle apart in the industry. As the world's leading lending platform for business financing, I'm thrilled to join Funding Circle to help drive the company's responsible growth in the U.S. market and further its mission to build a better financial world."
Funding Circle noted since its launch in 2010; it has helped over 30,000 businesses globally access $3.8 billion in transparent and affordable financing.

Sponsored Links by DQ Promote