On Friday, UK-based peer-to-peer lending platform Landbay celebrated its third birthday. The online lender revealed that in the past three years, it has lent a total of £47.31 million, which is funding buy-to-let mortgages throughout the UK.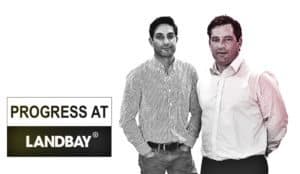 CEO and co-founder, John Goodall shared details about the biggest challenges that Landbay has experienced since its launch:
"Launching any business from scratch presents many big challenges. As a peer-to-peer lending business, we need to attract creditworthy borrowers and investors and ensure that the supply and demand matches. For investors, one of the key things that we needed to do was build trust. As a start-up lender with no track record, you cannot do that overnight, so getting the credit function right was crucial. Now that we have been lending for 3 years with an unblemished lending performance, I think that we have reassured investors and built that trust. We now have over 4,000 registered users and the average amount of funds that investors have lent on the platform has consistently grown over the 3 years."
In regards to his proudest moments, Goodall added:
"There are two achievements of which I am equally proud. The first is our team of 25 who work at Landbay across a range of disciplines, from Technology and Credit through to Marketing, Finance and Operations. The age difference between the oldest and youngest is about 30 years and we all really pull together to work as a great team with energy and dedication. Last year we entered the Tough Mudder competition, which is a 13-mile assault course, and the attitude and teamwork was fantastic. Despite how difficult and exhausting it was, we all loved doing it together."
The anniversary comes just months after the lender was granted ISA Manager Status by HMRC and launched its propers-backed ISA. Goodall and Gray Stern launched Landbay with the help of equity crowdfunding platform, Seedrs. Prior to the website even going live, Goodall and Stern raised seed capital on the funding portal for their vision of mortgage finance.  Their first funding round was for only £50,000 in SEIS eligible seed funding. Since then, Landbay has launched six other Seedrs campaigns, with the recent initiative attracting more than £1.6 million, which includes an investment from tennis star, Andy Murray.
Have a crowdfunding offering you'd like to share? Submit an offering for consideration using our Submit a Tip form and we may share it on our site!