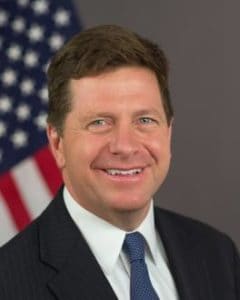 In an address delivered today at the Economic Club of New York, Securities and Exchange Commission Chairman Jay Clayton outlined his vision of the nation's top securities regulator.
Focusing first on the SEC's Mission;  to protect investors, to maintain fair, orderly, and efficient markets, and to facilitate capital formation, Chair Clayton bulleted out his guiding principles.
The 8 different principles are as follows:
Fulfilling the SEC's Mission (as indicated above)
The SEC's analysis starts and ends with the long-term interests of the Main Street investor.
The SEC's historic approach to regulation, based on disclosure, is sound.
Regulatory actions drive change, and change can have lasting effects – sometimes unintended ones.
As markets evolves, so must the SEC
Effective rule making does not end with rule adoption as rules should also be reviewed retrospectively
The costs of a rule often includes the cost of compliance
Coordination is key as there are many different regulatory bodies
The overall tone appeared to take a posture of practicality of practice in dealing with securities regulations and market efficacy.
Clayton specifically pointed to the "roughly 50% decline in the total number of US listed public companies over the last two decades." But noted that the JOBS Act on ramp for emerging growth companies has been utilized by approximately 87% of the IPOs since was made available.
"While there are many factors that drive the decision of whether to be a public company, increased disclosure and other burdens may render alternatives for raising capital, such as the private markets, increasingly attractive to companies that only a decade ago would have been all but certain candidates for the public markets.  And, fewer small and medium-sized public companies may mean less liquid trading markets for those that remain public.  Regardless of the cause, the reduction in the number of U.S.-listed public companies is a serious issue for our markets and the country more generally.  To the extent companies are eschewing our public markets, the vast majority of Main Street investors will be unable to participate in their growth.  The potential lasting effects of such an outcome to the economy and society are, in two words, 'not good'."
Clayton appears to believes that every American should have the ability to participate in promising investment opportunities, not just the most fortunate, and he wants to enhance this access. It will be interesting to watch how he acts upon these beliefs.

Clayton has been on the job for only 70 days now and, as one would expect, there is a significant learning curve involved. But these early comments should be encouraging for pro-business and pro-investor advocates (including the smaller ones), as Clayton guides the regulatory approach during his tenure at the SEC.

Sponsored Links by DQ Promote