Earlier this month, Mexican President Enrique Peña Nieto declared that, "Today, one of the challenges we have, and perhaps an instrument to ensure further development, is financial inclusion". Fintech is viewed as the way to provide better services to the masses.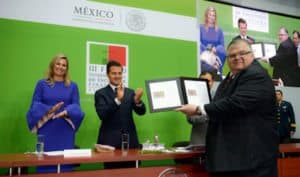 President Peña Nieto announced that over the coming days an initiative will be submitted to regulate and provide a legal framework for Fintech that offers access to financing and financial inclusion, through technology.
"I believe that this regulation, which will soon be under discussion in Congress, I hope, will help us take very important steps towards financial inclusion," he said.
Mexico claims the largest Fintech market in Latin America and thus the government believes it is important to regulate the sector.
There are an estimated 4.2 million Micro, Small and Medium Enterprises in the country, accounting for 71% of employment. However, because many of these business are informal, their ability to obtain credit and financial services is limited.
While the announcement from the President's office was light on details the emphasis appears to be to leverage financial technology to improve access to the non-banked and underbanked sectors of the economy. Reuters reported the actual legislation will be presented in the Mexican Senate before September 20th. The same report stated that the number of Mexican Fintechs had jumped from just 50 in 2015 to 240 this year.