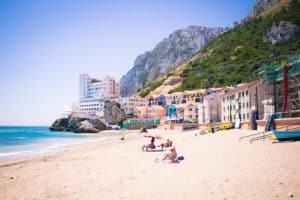 The Gibraltar Financial Services Commission (GFSC) has taken notice of the rising use of cryptocurrencies and tokenized offerings and instead of blocking them, the Commission will publish a new regulatory framework commencing in January 2018.
The new rules will regulate the activities of firms, operating in or from Gibraltar, that use DLT to store or transmit value belonging to others, such as virtual currency exchanges.
The GFSC said the country "is committed to being a sound and safe place to do business with and is considering a complementary regulatory framework covering the promotion and sale of tokens, aligned with the DLT framework."
Additionally, the GFSC described the current environment of ICOs as follows:
"ICOs are an unregulated means of raising finance in a venture or project, usually at an early-stage and often one whose products and services have not yet been significantly designed, built or tested, yet alone made operational or generating revenue. Such forms of crowdfunding are often used by start-ups to bypass the rigorous and regulated capital-raising process required by venture capitalists or financial institutions. In an ICO, tokens are sold to early supporters of a project in exchange for cash or cryptocurrency, such as bitcoin or ether."
"Tokens vary widely in design and purpose. In some cases, tokens represent securities, such as shares in a company, and their promotion and sale are regulated as such. More often, tokens serve some cryptocurrency or functional use that is unregulated, such as prepayment for access to a product or service that is to be developed using funds raised in the ICO."
The GFSC noted that early stage investing is risk business and that most ventures will likely fail. Investors should, obviously, invest only amounts they are ok about losing.
The Commission suggested that anyone considering an ICO should consider the following:
Regulation: Do you understand that tokens and ICOs are unregulated and that you have no recourse to any regulatory authority, financial compensation scheme or ombudsman?
Volatility: Are you aware that the value of a token may be highly volatile and there may be no way for you trade or sell tokens?
Disclosures: ICO whitepapers are unregulated and may contain inadequate, inaccurate or misleading statements and disclosures.
Are you satisfied you have all the information necessary to make an informed decision?
Risk appetite: Recognising that investing in early-stage startups is high risk and speculative, can you afford to lose your entire investment?
Just like securities regulators around the world, the GFSC continues to monitor the use of unregulated tokens as a means of raising finance.