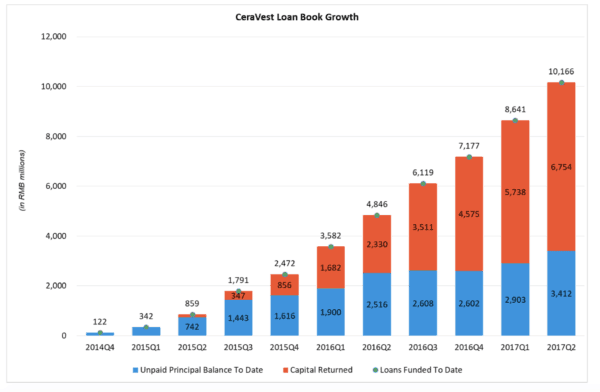 Fincera Inc. (OTCQB: YUANF), a provider of online financing and e-commerce services for small and medium – sized businesses and individuals in China, has reported financial results for the second quarter ended June 30 , 2017.
According to their numbers, loan transaction volume across both CeraPay and CeraVest platforms for Q2 2017 totaled approximately RMB 6.9 billion (USD $ 1.0 billion ).
CeraPay is Fincera's credit advance and online payment processing platform. CeraPay allows consumers to pay for everyday needs at participating merchants through the online CeraPay transaction network with functionality similar to a credit card. CeraPay generated credit transactions totaling approximately RMB 5.4 billion (USD $796.5 million) during Q2, an increase of approximately RMB 367.4 million (USD $554.2 million).
CeraVest allows lenders to provide loans to borrowers that have been vetted by Fincera. The CeraVest platform also provides investors the opportunity to invest in loans originated from the CeraPay platform .
From its inception in November 2014 through the second quarter of 2017, CeraVest originated over RMB 10.2 billion (USD $1.5 billion) in loans.
Customers may invest in three types of loans on the CeraVest platform: a 30 day loan with an annualized return of 8.1%% if held to maturity; a 180 day loan with an annualized return of 8.62% if held to maturity; and a 12 month loan with an annualized return of 9.02% that returns principal and interest monthly. In addition,, investors may trade the 30 – day and 180 – day loans on a secondary marketplace offered by CeraVest.
Yong Hui Li, Chairman and CEO of Fincera, commented on the results;
"We are pleased with the continued growth in our Internet – based businesses in the second quarter of 2017. Our top line improved by more than 23% during the second quarter of 2017 compared to the second quarter last year, resulting from the 18% year over year increase in CeraPay's transaction volume and in CeraVest's loan issuances during the quarter."
Li added that increased operating expenses, including product development and marketing, impacted the bottom line.
"We believe this ongoing growth demonstrates that our primary CeraPay and CeraVest products continue to resonate with underserved small and medium sized businesses in China. We are continuing to explore ways in which we can further expand and improve our offerings and services," said Li.
Sponsored Links by DQ Promote