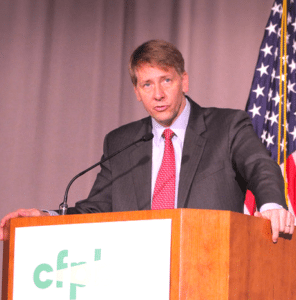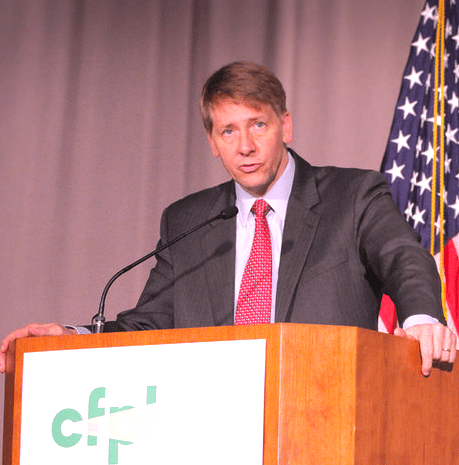 The Consumer Financial Protection Bureau (CFPB) has filed suit in federal court against Think Finance, a Fintech that leverages its technology to power online lending platforms. Think Finance provides software technology, analytics, loan servicing, and marketing services. The CFPB says the suit was filed for its "role in deceiving consumers into repaying loans that were not legally owed."
The CFPB alleges that Think Finance illegally collects on loans that are void under state laws governing interest rate caps or the licensing of lenders. The CFPB said that Think Finance made "deceptive demands and illegally took money from consumers' bank accounts for debts that were not legally owed."
"We are suing Think Finance for deceiving consumers into repaying loans they did not legally owe," said CFPB Director Richard Cordray. "Think Finance wrongly took money from people's bank accounts, so we are seeking relief for consumers and a civil money penalty."
The actual filing states:
"From 2011 through at least 2015, Defendant has performed critical functions for three separate lending businesses owned by Native American Tribes: (1) Great Plains Lending, LLC (Great Plains); (2) MobiLoans, LLC (MobiLoans); and (3) Plain Green, LLC (Plain Green) (collectively, the Tribal lenders). Defendant is therefore a "service provider" under CFPA. 12 U.S.C. § 5481(226)."
An Fintech industry insider shared with Crowdfund Insider;
"Think Finance declared bankruptcy last month to hasten legal issues with the federal regulators. However, the core of the allegation still revolves around the underlying issue of tribal lending and tribal sovereignty. It is interesting that the CFPB complaint does not mention tribal issues which may be an indication by the CFPB as to where it believes they can exert enforcement over tribes."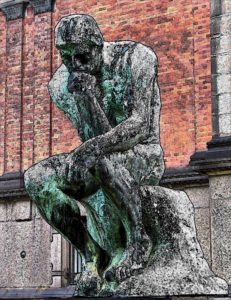 The CFPB appears to be bridging the concept of a software provider and an actual online lender. The complaint alleges that Think Finance violated the Dodd-Frank Wall Street Reform and Consumer Protection Act by deceiving consumers and collecting on loans that were either partially or completely void under the laws of 17 states, including Arizona, Arkansas, Colorado, Connecticut, Illinois, Indiana, Kentucky, Massachusetts, Minnesota, Montana, New Hampshire, New Jersey, New Mexico, New York, North Carolina, Ohio, and South Dakota.
The CFPB's also described the complaint as "not a finding or ruling that the defendant has actually violated the law."
The timing of the suit is notable as CFPB Director Cordray has just announced his intent to resign from the Bureau as he prepares to run for Governor in Ohio.  Cordray has been viewed by some members of Congress and the Trump administration as a challenging legacy from the previous administration.  This parting shot may be more political window dressing than anything else. It will be interesting to see what happens once Cordray is replaced with a Trump appointee.