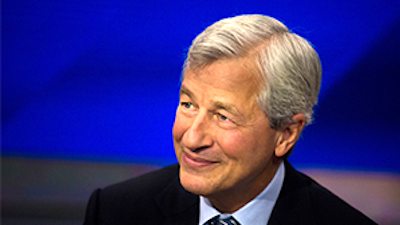 Jamie Dimon, CEO of JPMorgan Chase, famously bashed Bitcoin back in September. The outspoken banking executive stated he would fire any JPM trader who was in the Bitcoin market as it is "against our rules and they are stupid."
Perhaps Dimon is reconsidering his shoot from the hip response as WSJ.com is reporting JPMorgan is considering allowing clients to invest in Bitcoin futures. And why not?
The CME Group announced in October it would launch Bitcoin futures before year end. The announcement quickly caused a surge in Bitcoin interest since having an established exchange like the CMX trade in Bitcoin goes a long way in validating the cryptocurrency. If JPM clients want to trade in BTC – JPM must facilitate it. Otherwise, there are plenty of other financial institutions willing to service valued JPM business.
Bitcoin has experienced a rocket ship rise in value over the past 12 months. Some of this increase is due, in part, to the growing acceptance of traditional finance that cryptocurrency is here to stay. Whether they like it or not.
Dimon may also want to reconsider his statement that traders are stupid for investing in BTC. It looks like his firm may become a prime beneficiary of investor interest. These stupid traders may be needed.