Ellevest has introduced several new services. The online investment platform has announced  Ellevest Digital, Ellevest Premium, and Private Wealth Management Services thus delivering an expanded suite of products, services, and relationship-based pricing options. The company said the evolution of Ellevest's client offering follows a recent capital raise of $34.6 million announced in September and reflects client demand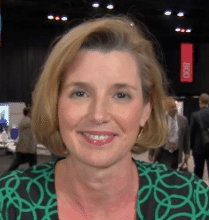 Ellevest is the creation of Sallie Krawcheck a Wall Street rock-star. After many years of climbing the corporate ladder at big name financial services firms, Krawcheck launched Ellevest to serve women's needs, providing real world goals tailored to the individual needs of each investor while closing the gender investing gap.
"This year's seemingly endless flow of headlines on sexual harassment has underscored the obstacles women continue to face to achieving financial success," says Krawcheck. "Our clients' passion around these issues inspires our work and drives our sense of urgency to provide women with access—at all stages of their lives—to the tools to help them close their gender money gaps."
Krawcheck says that Ellevest's core mission is to be an advocate for women's contributions to the economy and to call foul on what impedes their succes;
"Money is power, confidence, control—and can be the freedom to take this job and shove it, if needed," adds Krawcheck.
So what is new?
In addition to existing benefits of Ellevest's tech stack, the company's expanded offering reflects Ellevest's clients' requests for high-touch services.
Ellevest Digital provides personalized investment portfolios for each client's needs plus unlimited text / email support from the Ellevest Concierge Team. Ellevest Premium takes this up another step with one on one personal guidance including executive career coaching via Forshay. Ellevest Private Wealth Management is for a higher net worth individual that includes a dedicated private wealth manager and investing options focused on driving social impact and advancing women.
"We're thankful that we can play a part in helping women achieve these things, and will continue to build a company that works hard on their behalf," says Krawcheck.
Sponsored