Cebiotex, a CataloniaBio member, has launched a new crowdequity campaign to raise €650,000 through CapitalCell in order to ensure its first drug, CEB-01 for post-op treatment of soft-tissue sarcomas, reaches pediatric oncology. The campaign is part of a larger €1.6-million round of funding; since launching, the biotech firm pre-valued at €8,000,000 has raised more than €2 million in public and private funds.
To date, over 24%, or €156,000+, has been secured on CapitalCell. The biotech firm hopes this capital campaign will be covered with both public and private funding, allowing it to begin phase I/II clinical trials on candidate CEB-01 with 15 patients in 2018, and begin proof-of concept testing for new oncology treatments for pancreatic cancer, liver cancer and brain tumours. Cebiotex is developing a new generation of treatments against cancer based on nanofiber tissues, with a focus and a clear mission: to put on the market cancer treatments that also reach children.
[clickToTweet tweet="Fighting Cancer: @Cebiotex, @CataloniaBio member, live @CapitalCellNet" quote="Fighting Cancer: @Cebiotex, @CataloniaBio member, live @CapitalCellNet"]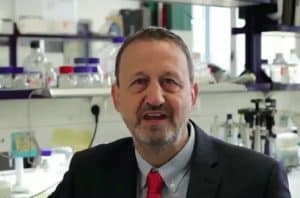 "The first licences are expected from 2021, with potential for seven-fold profitability", indicated Cebiotex co-founder and CEO Joan Bertran.
Cebiotex is a spin-off created in 2012 by researchers from the Polytechnic University of Catalonia (UPC) and Hospital Sant Joan de Déu (HSJD). The company is based at the Barcelona Science Park (PCB).
CEB-01, which is being developed to treat sarcoma, is the company's first project developed using its Cebiotex® technology platform, which is a biomedical application of biodegradable nanofibers as a local drug-delivery system. The CEB-01 membrane is composed of a biocompatible and biodegradable nanofiber membrane (PLGA) with a 3D structure loaded with the antitumor drug SN38. The membrane is inert, non-toxic and has shown spectacular efficacy in animal tests.
[clickToTweet tweet="La ronda de @cebiotex sigue abierta! @CapitalCellNet @equitycrowdfunding @cataloniabio" quote="La ronda de @cebiotex sigue abierta! @CapitalCellNet @equitycrowdfunding @cataloniabio"]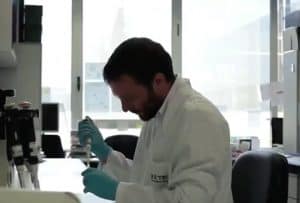 "When the surgeon removes a tumor from the patient there is a medical need to ensure that no cancer cells remain, which could reproduce the tumor. The usual treatments, such as radio and chemotherapy, are not applicable right after the operation because the wound needs to heal for 2-4 weeks," according to the campaign. "Because of this, 37% of breast tumors regrow after the operation , and in the case of Glioblastoma (brain tumor), the probability of relapse is practically 100%. Cebiotex is developing systems to prevent surgically excised tumors from reoccurring, based on a unique technology of biodegradable nanofibers capable of delivering antitumor drugs directly into the space left by the tumor when it is removed, thus eliminating any remaining cancer cell."

For more detailed campaign financial information, click here.

____________________________________________________________________________

Have a crowdfunding offering you'd like to share? Submit an offering for consideration using our Submit a Tip form and we may share it on our site!

Sponsored