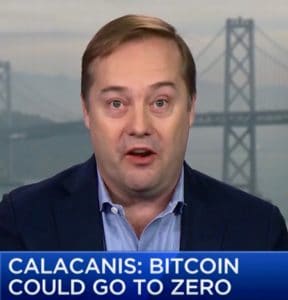 Prominent Silicon Valley investor Jason Calacanis visited with CNBC's SquawkAlley this past week while enjoying some time in Davos, Switzerland. Last month, Calacanis told Squawk that Bitcoin is a bubble. This time, Calacanis said Bitcoin could go to zero and gave it a 1/3 chance this would take place.
" [Bitcoin] has lost half of its value in 20 days. It is possible that another technology comes along and replaces it," said Calacanis.
He is not alone in questioning the lifespan of the world's favorite cryptocurrency. The price of Bitcoin has been on a roller coaster ride during the past year or so. It started 2017 valued at less than $1000. Towards the end of 2017, Bitcoin rocketed to over $20,000 only to collapse by around 50%.
Following Calacanis' criticism, CNBC hoisted up an opposing opinion by Balaji Srinivasan, an Andreessen Horowitz Board Member.
Srinivasan said Bitcoin was more like digital gold but definitely not a good transactional vehicle. He explained that over the long term he expects Bitcoin to rise in value but decline in market share as other digital currencies continue to move into the space.
And then there was Dan Ciotoli who declared Bitcoin will hit $30,000 by the end of the year in a thoroughly bullish statement.
So who is right? Does it matter? I say just trade it.
---
Bespoke analyst sees bitcoin hitting $30K, here's what could take it there from CNBC.

Sponsored Links by DQ Promote