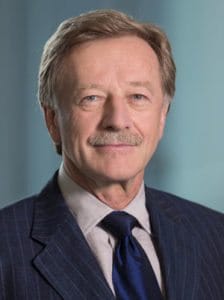 Earlier today, Yves Mersch, Member of the Executive Board of the European Central Bank, spoke at a forum in London. Mersch addressed the topic du jour: cryptocurrencies and the future of virtual money in the digital age.
Mersch posed the question as to whether or not cryptocurrencies are money and gave this response;
"The answer for now, and indeed for the foreseeable future, is no. Economists generally define money as being a verifiable asset that fulfils three basic functions: a medium of exchange, a unit of account and a store of value. How well do VCs carry out those functions?"
Not so well, according to Mersch.
Patchy acceptance, expensive transactions, no backing by a central bank and more. Mersch checks off a litany of shortcomings emerging Bitcoin and its digital brethren.
"They have neither intrinsic value, such as the commodity content of gold coins, nor extrinsic value, such as the value assigned to traditional fiat currencies by the trusted public issuing authority. [Virtual currencies] do not even provide the dividend or coupon payments that tie down the prices of equities and bonds. They are in fact a classic Keynesian beauty contest, where investors buy what they perceive others view as the most attractive investment. Like in Mr Ponzi's schemes, those investors hope for future price gains and believe they will find a greater fool to sell to before the inevitable crash. Under these conditions, [Virtual currencies] exhibit wild fluctuations in value, meaning that they cannot be trusted as a store of value."
Mersch states;
"Virtual currencies are not money, nor will they be for the foreseeable future."
But Mersch adds a caveat that initial euphoria derived from innovation does not mean cryptocurrency is without virtue "even if early market leaders may not last the distance." He simply is of the opinion that inital hype fuels bubbles and many of the early entrants will vaporize but the technology engendered may end up being useful and widely utilized.

Sponsored Links by DQ Promote