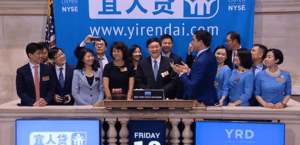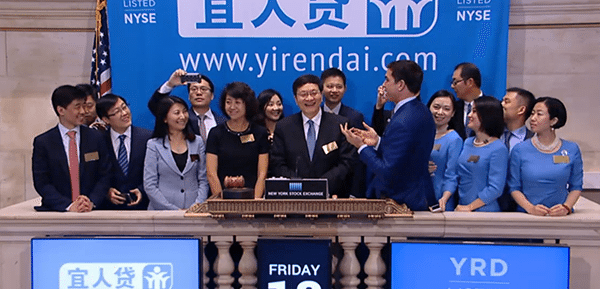 On Thursday, Chinese fintech Yirendai Ltd. (NYSE: YRD) announced it has entered into a three-year business agreement with PICC Property and Casualty Company Limited.
The company reported that under the terms of the Agreement, PICC P&C will provide surety insurance for loans, with a maximum term of 12 months and maximum contract amount of RMB 200,000 ( USD 31,000 approximately) which are facilitated through Yirendai's online marketplace. PICC P&C will charge borrowers an insurance premium and will reimburse lenders their principal and expected interest in the event of loan defaults within the agreed scope of the Agreement.
The partnership comes just a couple weeks after Yirendai announced it connected to the Internet Finance Industry Credit Information Sharing Platform, which was established by the National Internet Finance Association of China (NIFA). Yirendai has also been selected by NIFA to participate in a pilot project to enable automatic queries and the company expects to launch an automated query function in its system shortly. Yihan Fang, CEO of Yirendai, stated at the time:
"As a leader in China's fintech industry, Yirendai is committed to creating a sustainable foundation for the industry. We believe that the establishment of the Platform is critical for the healthy development of the industry and the Company will closely work with NIFA in promoting the integration and sharing of internet finance credit information."
Yirendai described NIFA as a national self-regulatory organization in the field of internet finance and is initiated by the People's Bank of China in collaboration with relevant ministries and commissions including the China Banking Regulatory Commission, the China Securities Regulatory Commission and the China Insurance Regulatory Commission.