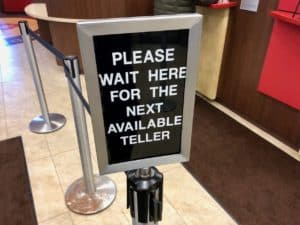 Bank of America, one of the largest banks on the planet, published its 10-K with the Securities and Exchange Commission (SEC) this past week. The Annual Report for most publicly listed institutions is a routine event with few people digging into the document except for dogged analysts, lawyers looking for loopholes, and a few dedicated investors. In this years Annual Report, it has been widely noted that B of A has listed Cryptocurrency as a risk to its operations going forward.
Bank of America is concerned that legal requirements that demand they comply with anti-money laundering (AML) and know your customer rules (KYC) may be a challenge in a world inhabited by a growing number of cryptocurrencies. Digital currencies can be difficult to track, in certain instances, so compliance may become a growing burden.
"Our ability to comply with these laws is dependent on our ability to improve detection and reporting capabilities and reduce variation in control processes and oversight accountability."
We face significant and increasing competition in the financial services industry.
Yes, competition is heating up for traditional banking entities. These august corporations employing tens of thousands of associates around the world, from mere branches to corner offices overlooking the skyline of Manhattan, may find their jobs at risk.
"We operate in a highly competitive environment and will continue to experience intense competition from local and global financial institutions as well as new entrants, in both domestic and foreign markets … In addition, technological advances and the growth of e-commerce have made it easier for non-depository institutions to offer products and services that traditionally were banking products, and for financial institutions to compete with technology companies in providing electronic and internet-based financial solutions including electronic securities trading, marketplace lending and payment processing. Further, clients may choose to conduct business with other market participants who engage in business or offer products in areas we deem speculative or risky, such as cryptocurrencies. Increased competition may negatively affect our earnings by creating pressure to lower prices or credit standards on our products and services requiring additional investment to improve the quality and delivery of our technology and/or reducing our market share, or affecting the willingness of our clients to do business with us."
The big risk to B of A, and many other banks, is their inability to adapt and innovate fast enough to compete with emerging challengers. Fintech is on the rise and not just from that hot startup in Silicon Alley, but big tech like Amazon, a company that is providing access to credit in a more effective and efficient manner than a bank could ever dream to provide.

"Our inability to adapt our products and services to evolving industry standards and consumer preferences could harm our business."

While the hotness is all about Crypto and Blockchain today, it will be something else tomorrow. In the end, Fintech innovation is about a complete transformation of financial services that is good for consumers, good for businesses, and good for the economy. The vision of Fintech is to provide better services for all, including the underbanked, better investment opportunities for investors, and all at a lower cost. Without standing in line, no less. The loser in this equation are monolithic entities rooted in the ways of the past. The problem is clear, the goal is obvious. The execution is incredibly hard.

For Bank of America their success depends on their ability to adapt their products and services to evolving industry standards – which are changing at an increasing velocity.

"There is increasing pressure by competitors to provide products and services at lower prices and this may impact our ability to grow revenue and/or effectively compete, in part, due to legislative and regulatory developments that affect the competitive landscape."

The times are changing now. All for the better.

Sponsored Links by DQ Promote