Next Insurance, an insurtech company that specializes in small to medium businesses, announced on Tuesday it has launched a new verification feature called Live Certification. Founded in 2016, Next Insurance claims it is the first US-based insurance provider to offer this type of service.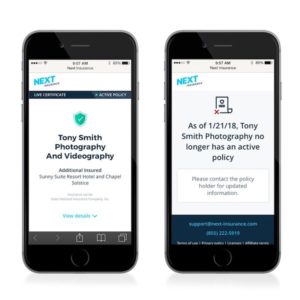 The insurtech stated that the Next Insurance Live Certificate provides a digital option for real-time policy validation from a computer or mobile phone, giving consumers confidence that the small businesses they employ have active insurance coverage. Next Insurance now serves as the verifying third party, injecting transparency and confidence into the relationship between small businesses and their customers. Here's how the Live Certification feature works:
Link Sharing: Policyholders are able to email their customers a link to the Live Certificate in real-time directly through the Next Insurance online customer portal from a computer or mobile phone.
Instant Authentication: The link enables the customer to instantly check the validity of the policy online, including additional insured and policy expiry information.
Work With Confidence: Once verified, customers can rest assured that they are protected in the event of a mishap.
No Additional Cost: The Next Insurance Live Certificate is offered to all customers for free, and unlimited certificates are available.
While sharing more details about the feature,  Guy Goldstein, CEO and Co-Founder of Next Insurance, stated:
"We are the first in the industry in the US to offer real-time Certificate of Insurance verification through our online customer portal, enabling immediate access for small business customers to verify active insurance policies. The insurance industry has not provided consumers what it was designed to offer: security, confidence and transparency. Now, consumers can take their security into their own hands. With Live Certificate, we continue to expand our innovative insurance offering, transforming how businesses interact, as well as the outdated insurance industry as a whole."
Next Insurance currently offers policies that are easy to buy with instant, 24/7, online access to services such as Certificates of Insurance, Additional Insured and more with absolutely no extra fees.