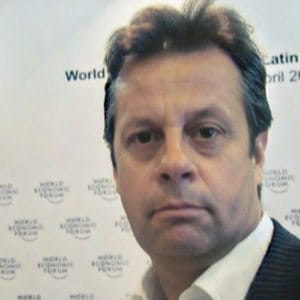 WISeKey International Holding Ltd ( SIX: WIHN), a global cybersecurity and IoT company, will launch its WISeCoin in Q4 2018. WISeCoin will be funded by an ICO with forthcoming private pre-sales starting in Q3 2018. The company expects high demand for WISeCoin. Founded by Chairman and CEO Carlos Moreira in 1999, WISeKey is a well-established cybersecurity IoT platform with over 4,000 large enterprises already using its technology and the OISTE Cryptographic RoT which has been actively used since 1999 by over 2.6 billion desktops, browsers, mobile devices, SSL certificates and IoT devices. To date, WISeKey has raised $4 million in convertible debt for the pre ICO of WISeCoin and is considering a potential total WISeCoin utility token in the range of between $50 million to $100 million, subject to demand and market conditions.
WISeKey's goal with WISeCoin is to become an "emerging powerhouse" in the global cryptocurrency market by supporting the development of economies built on Blockchain technology. WISeKey indicated that its WISeCoin ICO will be based on a strict due diligence and admissions process, as well as a high-quality digital asset exchange. The WISeCoin technology and WISeCoin Hardware Wallet was introduced to the attendees of the Davos Blockchain and Cryptocurrency Gathering, who received a WISeCoin Wallet, a contactless hardware enabled wallet designed to offer security and ease of use for cryptocurrency users. Crowdfund Insider awaits comments regarding the launch from WISeKey.
The WISeCoin development team inherits WISeKey Semiconductors R&D and expertise with more than 25 years' experience delivering secure hardware modules, semiconductors, RoT, Crypto keys, crypto wallets and digital identities that protect sensitive data for governments and private corporations in 75 countries. Among other applications, WISeKey's chips are widely used by global telecommunication, manufacturing and healthcare organizations as well as by bank cards.  The same certified technology is now available in WISeCoin embedded VaultIC lightweight hardware security modules.  WISeCoin VaultIC chips' cryptographic security is a powerful anti-counterfeiting tool used to identify and authenticate any item online using a contactless Near Field Communication (NFC) technology through an Android or Apple iOS based smartphone.
[clickToTweet tweet="[email protected] aims to become an emerging powerhouse in the global #cryptocurrency market with #WISeCoin by supporting the development of economies built on #Blockchain technology." quote="[email protected] aims to become an emerging powerhouse in the global #cryptocurrency market with #WISeCoin by supporting the development of economies built on #Blockchain technology."]
To empower a seamless cryptocurrency enabled economy, WISeCoin is supplemented with secured solutions such as biometrics-driven hardware wallets, integrated exchange platforms, MicroChips Blockchain enabled semiconductors, and NFC-based contactless payment solutions.
WISeCoin can also be used to identify and protect objects against counterfeiting and allows Connected Objects to complete transaction reportedly using a first-of-its-kind IoT Cryptocurrency Smart Payment solution. WISeKey has already tested this technology on luxury products by integrating its Secure Element at the chip level, thus analog watches can execute secure cryptocurrency transactions and connected cars secured by WISeKey can pay for electricity, gas and parking.  Each connected object is equipped with WISeKey's Secure Element, called VaultIC184, consisting of a tamper resistant, easy to integrate silicon chip, based on a state-of-the-art secure microcontroller, thus transferring the burden of device security to WISeKey's highly secure Personalization Center. WISeCoin said that it could become a payment alternative for the new decentralized IoT ecosystem payment economy.
The WISeCoin technology is currently being tested in several industries (such as connected cars, commodity trading, pharma, food security, and tobacco) and during the next 6 months will be used in selected case studies that are currently using the WISeKey PKI and Blockchain technology, and then will be gradually offered to the market globally.
Providers of Digital Identities for people and objects, and members of the WISeKey Cryptographic Platform will be rewarded with WISeCoins for concluded transactions and will be able to use WISeCoins to acquire products and services from other members of the WISeKey platform creating a trusted ecosystem in accordance with countries' regulatory frameworks.
WISeKey claims itself as the only vendor in the industry providing an integrated PKI Blockchain, Cryptocurrency solution that combines a back-end certificate and device management system with a hardware RoT, a Secure Element (highly secure crypto chip) that protects the digital identity and certificates, to bring trust to the transmitted data through secure authentication of the device and related encryption of the data channel.  This mechanism which creates and deploys digital certificates, as well as a "Security Broker" that manages communications by verifying the security level of the messages and implementing security and business rules (such as renewing certificates, managing attributes and other key capabilities) make a real difference when deploying securely to large numbers of connected devices.
WISeKey said that it has combined WISeCoin with its CertifyID integrating Digital Identity with Blockchain technology. CertifyID acts as a Digital Identity dual factor authentication based technology that sits on top of a Blockchain. The CertifyID Blockchain is constantly growing as new blocks are added to it with a new set of recordings. Each CertifyID node gets a copy of the CertifyID Blockchain and gets downloaded automatically upon joining the CertifyID network. The system is completely decentralized and can be operated on a national or local level by using a distributed identity ledger run by trusted parties and spread across the Blockchain. Furthermore, at the heart of the WISeCoin deployment is the OISTE Cryptographic Root of Trust which has been actively used since 1999 in over 2.6 billion desktops, browsers, mobile devices, SSL certificates and Internet of Things' devices. The OISTE WISeKey Cryptographic Root of Trust is ubiquitous and universal, and a pioneer in the creation of Digital Identities.
Have a crowdfunding offering you'd like to share? Submit an offering for consideration using our Submit a Tip form and we may share it on our site!