On Wednesday, global innovation platform Plug and Play and international financial center Abu Dhabi Global Market (ADGM) announced they have established the Plug and Play ADGM office and the go-live date for its signature fintech innovation program for Abu Dhabi and the wider Middle East and North Africa (MENA) region. The new office is established at ADGM on Al Maryah Island.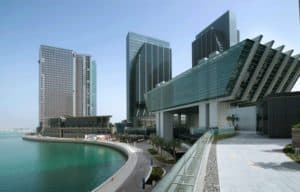 According to the duo, the Plug and Play ADGM program will be available in the third quarter of 2018 and focuses on rapidly accelerating fintech innovators and start-ups that have solutions and initiatives that address the dynamic needs of the capital markets in this region. The organizations noted that the partnership connects the Plug and Play ADGM corporate partners to the most directly relevant and innovative solutions by FinTech startups under its programme. While sharing more details about the partnership, Omeed Mehrinfar, Managing Partner, Plug and Play EMEA, stated:
"We've been evaluating the Middle-East for a while, and elhemdAllah we found that ideal strategic alliance with Abu Dhabi Global Market. Through them being a leading International Financial Center, with resources such as their RegLab and Innovation Center in place, we can augment our offerings towards local and international entrepreneurs that are looking to scale their FinTech solutions across the MENA region. The ADGM partnership is also an opportunity for both of our entities to evaluate expanding into other industries and fields as it pertains to the region's innovation agenda. This mutual roadmap, as well as their team culture and ours were an automatic match!"
Richard Teng, CEO of Financial Services Regulatory Authority at ADGM, added:
"Plug and Play ADGM is one of the achievements of the partnership that began in October 2017 at the successful ADGM FinTech Abu Dhabi Summit.  It is a natural match and strategic alignment between Plug and Play and ADGM.  We share a common ambition in identifying the pipeline of needs and solving the challenges of the financial service in this region, developing the best entrepreneurs, and seeing that the right solutions are fully deployed to the financial institutions.   We are confident that the market, the fintechs, and financial institutions in Abu Dhabi and this region will reap direct benefits by being part of this new programme."
The organizations added that the Plug and Play ADGM will welcome financial institutions and corporate entities for its official launch May 3rd in Abu Dhabi. Corporate members will be able to gain from the Plug and Play's network and leverage their industry expertise and track-record of accelerating more than 6,000 startups.