The Autorite Des Marches Financiers, regulator of financial markets in Quebec, has sanctioned the operators of two ICOs (Initial Coin Offerings).
According to an April 19 press release from the AMF, after an 'ex parte' hearing on April 13th, the Administrative Financial Markets Tribunal (TMF):
"issued prohibition orders against Antivolatility Coin, ZZZ Coin, Power Invest Group, Frank Bernier and William Bolduc. The TMF has prohibited these persons from carrying on any activity…directly or indirectly, any transaction on any form of investment described in section 1 of the Securities Act, including the solicitation…of investors in Quebec or outside Quebec."
The TMF also ordered Frank Bernier and William Bolduc and companies to take down the www.antivolatilitycoin.com website and "remove any announcement or solicitation" from it. A the time of writing, the website is still up.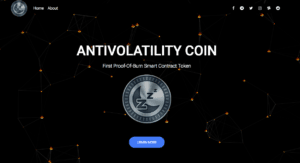 According to the TMF:
"The investigation revealed that Antivolatility Coin, ZZZ Coin, Power Invest Group, Frank Bernier and William Bolduc solicited the public, including through Facebook, to collect investments for the issuance of a "cryptocurrency". These activities could constitute investments and the exercise of the broker activity carried out in contravention of the Securities Act."
The press release also states that Frank Bernier and William Bolduc and companies, "have never been registered with the AMF in any capacity, have not prepared a prospectus submitted to the AMF for approval and do not benefit from an exemption."
Bernier and Bolduc were given fifteen days to dispute the notice.
The "solicitation" part of the "antivolatilitycoin" website is a collage of buzzwords and obfuscating technical jargon: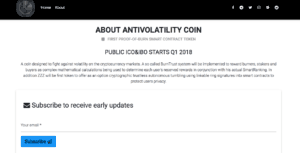 Because of how quickly and directly they allow companies to raise funds from the public with virtually no obligation to them, the issuing of ICOs (Initial Coin Offerings) exploded across the globe in 2017. The 'cryptocurrency space,' as it is called, has attracted a great number of criminal and incompetent individuals seeking a fast buck.
A number of seasoned Bitcoiners like Andreas Antonopoulos and Jimmy song have taken pains to warn the public about ICO-related risks, though they think investors should shoulder much of the responsibility for avoiding being taken.
Jimmy Song, a seasoned Bitcoin developer, recently tweeted about how to recognize a fraud:
In the video below, Antonopoulos explains ICOs and describes how regulators failed to protect investors against Bernie Madoff:
PLEASE NOTE: After this article appeared, William Bolduc contacted Crowdfund Insider at LinkedIn and stated: "We are in talk (sic) with AMF and they actually want to work with us now, and they did a false judgment. Yes our website is still up, because we have right to do so, and have filed 'contestation.'"
Have a crowdfunding offering you'd like to share? Submit an offering for consideration using our Submit a Tip form and we may share it on our site!