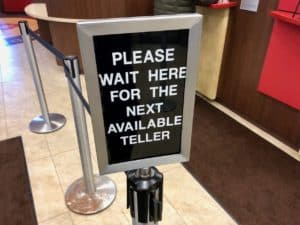 The Economist has published a report on digital banking and the need for established banks to become more agile and adapt to the changes in technology. The document has been published with the support of Temenos, a provider of banking and finance software. The Temenos / Economist pairing produced a similar report in 2017. At that time, partnering with Fintechs was the main message. Today, the discussion has moved from working together to challenging Fintech focused firms head on.
The report states:
"Banks can take the Fintechs on by building all-encompassing platforms that are seamless with other products and services. Digital investments are being directed to digital channel delivery capabilities such as mobile (cited by 54% of respondents), cloud-based technologies (48%), and in modernising front- and back-end systems (37%)."
Regarding the need for brick and mortar locations, the report states that "branches are disappearing quickly as customer behaviour changes" but 61% of respondents "still see a place for the traditional transaction-based branch model, nearly twice as many as those who think it will be dead by 2020." It is not clear what a bank will do with the costly, physical locations that nobody wants to go to.
Big tech is the elephant in the room. While consumers and businesses need banking services, we do not really need banks anymore.
"GAFA may pose more of a present threat to the established retail banking order. Amazon is in discussions with JPMorgan Chase to offer current-account services to its American shoppers. It already has some experience in providing financial services, having lent over US$3 bn since 2011 to small businesses via its Marketplace platform. But banks still enjoy some advantages over GAFA: an established banking customer base, for example, and long-held reputations in the financial services space. Most crucially, their customers trust them with their most significant financial assets. Recent scrutiny of the digital giants' use of private data and their impact on society may increase this advantage."
While there is hope for some banks to survive the digital tsunami many pundits believe that most will whither and disappear. Perhaps the best example in the US of a  traditional financial firm emerging to challenge the Fintech and Big Tech onslaught is Marcus – the creation of Goldman Sachs. Unhindered by legacy tech and physical locations, Marcus is growing rapidly to challenge existing money center banks with superior offerings for consumers.
The digital disruption is obviously the leading concern – even more so than excessive regulation.
"…retail bankers that the digital revolution is the defining trend of the current era. Changing customer behaviour and technology have eclipsed regulation to become the most significant factors shaping their industry."
So can traditional banks survive? Temenos / The Economist appear to believe so.
Meanwhile, most consumers just want to handle everything on their smartphone with a brand they trust, minus the excessive fees, and poor service emblematic of too many traditional banks.
Read the report below.
---
Sponsored Links by DQ Promote