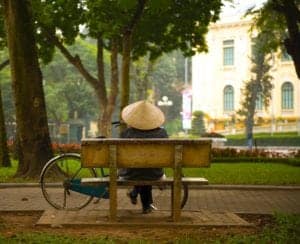 Huobi.Pro, a cryptocurrency exchange, says it wants to make Vietnam a strategic fortress. The comments came during a keynote speech at the Blockchain Festival Vietnam.
Huobi claimed an annual turnover of $850 million in 2017 – so it is pretty big. While some jurisdictions have become less friendly to crypto exchanges and digital assets in general, some safe havens have popped up willing to embrace blockchain-based companies.
Frank Fan, Strategic Investment Director of Huobi, said they want to make Vietnam "a location that has an unassailable lead in terms of market penetration."
Huobi apparently wants to collaborate with Vietnamese strategic partners with capabilities in regulation, banking and marketing. Huboi also said the landscape of Vietnamese fiat-digital assets service is nascent in Vietnam. The digital assets regulation in Vietnam remains stern and cautious. But the local government has indicated that clearer regulations will be on the way, which may make doing business less complicated and more straightforward.
Huobi Group was established in 2013 and is headquartered in Singapore. Huobi provides various crypto services as it seeks to create a full stack ecosystem from mining / creation to trading.