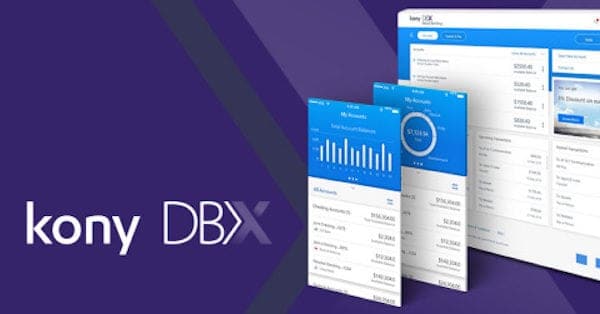 Kony, Inc., an enterprise mobility and digital applications company, announced on Tuesday the launch of its new digital banking solution, Kony DBX. This launch of the solution comes just a little over six months after the expansion of Kony's digital banking marketplace.
According to Kony, the Kony DBX Retail Banking app offers easy access to a growing portfolio of more than 125+ features and functionalities, allowing banks and credit unions to accelerate digital innovation, address real-world customer experience challenges, and drive profitable customer growth. While sharing more details about Kony DBX, Jeffery Kendall, senior vice president of Global Banking & Financial Solutions, Kony, Inc., stated:
"The battlefield for customers in banking is being fought on a digital front, and regional banks and credit unions are struggling to keep up. They are being outspent and out-marketed by the big banks, and these organizations don't have the resources or the agility in-house to quickly build and deploy fast enough to meet their customers' expectations. With the new Kony DBX solutions, we are leveling the playing field for regional banks and credit unions so they can effectively compete, and deliver differentiated modern digital experiences that will attract and retain their customers and members."
Featured benefits of using the Kony DBX Banking app are:
Speed and cost-effectiveness vs. off-the-shelf solution: The Kony DBX Retail Banking app offers easy access to a growing portfolio of over 125 features and functionalities that banks and credit unions can leverage to accelerate digital innovation.
Drive frictionless customer experiences: Kony Digital Banking Platform and the Kony DBX Retail Banking app offer the functionality and flexibility modern financial institutions need to better engage with and enhance both customer and employee experiences across all channels, all while enabling better allocation of internal resources and cost savings.
Accelerate digital banking transformation: More than 125 pre-built critical banking features ready to deploy out of the box, including authentication, accounts, transfers, peer-to-peer (P2P) payments, and mobile deposits.
Embrace rapid innovation: Integration of leading and emerging technologies including chatbots, blockchain, artificial intelligence (AI) and augmented reality (AR) to bring physical experiences into the digital realm.
Enable agility and responsiveness: Cloud-based capabilities and features empowers banks and credit unions with the flexibility to customize solutions.
Provides security and compliance: More than 200 security features including white-box cryptography, advanced authentication, and one-click binary protection, as well as built-in key industry compliance certifications
Kony added that the Kony DBX Banking app is part of Kony's Suite of Next Generation Digital Banking Applications.