Ping An Fin+Tech Accelerator, a program created by Ping An Group and SparkLabs Group under Futian District government's support, hastened its opening ceremony on Thursday. According to the organizers, this new accelerator is dedicated to providing innovative transformation of modern finance by nurturing global advanced technologies. Ten selected companies stood out from over 120 applicants from around the world and they have started the 3-month "Acceleration Adventure."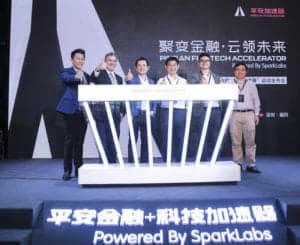 The accerator organizers reported that the ten selected companies, advisors and mentors, experts and scholars in various fields from around the world included Jessica Tan, Deputy Group CEO, Group COO and CIO of Ping An Group, Ericson Chan, CEO of Ping An Technology, Jonathan Larsen, CEO of Ping An Global Voyager Fund and other industry thought leaders such as on the advisor group; Ricky Ou, Chief Product Officer of Ping An Technology, Jay McCarthy, Managing Partner of Pacific Advisers, Emmanuel Pitsilis, former Senior Partner of McKinsey and 60 additional global corporate executives that are part of the mentor group. Speaking about the accelerator's launch, Ericson Chan, CEO of Ping An Technology, stated:
"Ping An Group continuously drives Finance + Technology dual innovation strategy. Technology is penetrating the core of traditional finance industry, and the Ping An Accelerator is keen to develop a technology hub that integrates innovation, capital, talent and thought leadership to discover, acquire and monetize technological assets. In the past decade, Ping An expanded rapidly into the FinTech, healthcare, AI and other verticals. Ping An Technology is the technology incubator of Ping An Group and capable of deploying Ping An Cloud ecosystem resource to global enterprises. Meanwhile, Ping An Fin+Tech Accelerator will become a key component of this ecosystem, empowering and optimizing solutions for the entire tech industry."
It was then added that the three-month program will equip and empower the selected companies with education and resources to optimize their product, technology and business model at scale. The program also includes extensive corporate partnership of Ping An Group's network, professional global mentors, workshops, Ping An Cloud service which provides invaluable support to the participating companies during their product development and a large Demo Day at the end of the program to help them drive market localization and secure next round of funding.