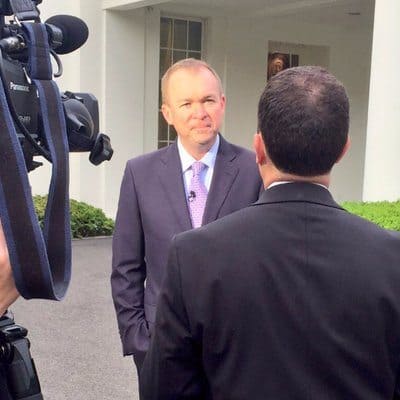 Consumer Financial Protection Bureau (CFPB) Chief, Mick Mulvaney, called for balanced regulation of 'financial technology' markets Wednesday at the Future of Fintech conference in New York, Coindesk reports:
"We knew at an early point in Bitcoin that as with any developing financial technology we needed to find that sweet spot … if Mt. Gox became a regular occurrence it dramatically undermines confidence in the markets and prevents innovation. And if we over-regulate and discourage people from entering the marketplace, that has bad consequences too…We're looking for that Goldilocks (path) in the middle."
Mulvaney, who also leads the Office of Management and Budget (OMB), told the audience that he is a fiscal conservative and, "was one of the founding members of the Bitcoin caucus and blockchain caucus."
According to Vox.com, as part if his work at the CFPB, Mulvaney presided over the recent dissolution of the CFPB's Consumer Advisory Board (CAB), which, according to CAB chair Ann Baddour, was  set up to funnel consumer protection information to Washington DC lawmakers from communities across the US.
Baddour, who is also the Director of the Fair Financial Services Project at the public interest justice centre Texas Appleseed said the CAB was created as part of Dodd Frank protections enshrined by the Obama administration in 2010, "because of a huge financial crisis where American families lost one-third of their wealth."
Dissolving of the CAB cut costs at the CFPB, but Baddour said that CAB efforts absorbed only a very small percentage of CFPB budgets.
Baddour said that CAB members -which included the Consumer Advisory Board, the Academic Research Council, the Community Bank Advisory Council, and the Credit Union Advisory Council- are concerned that the consumer protection power in the US now lies mainly in the hands of lobbyists.
Before he was appointed as the CFTB's head, and while he worked as a Republican congressperson, Mulvaney once called the bureau a "sick, sad, joke" that refused to answer to congressional inquiries:
"(It) doesn't take very seriously congress's oversight role, so it makes it very hard for us to advocate for your industry or anybody else…"
When asked by a Vox.com journalist about allegations before Congress that the CFPB arbitrarily upgraded mediocre employee ratings gathered as part of investigations into alleged discrimination at the bureau, Mulvaney said:
"(T)he place is just a wonderful example of how a bureaucracy will function if it has no accountability to anybody."
Mulvaney expressed similar anti-bureaucratic sentiments at Future of Fintech when he said that the US government, rather than viewing developments in cryptocurrencies through the lens of legacy banking and institutional finance, should take up a "sweet spot" position of broad, inclusive vantage:
"If for some reason we're looking at you and the only way we can look at you is through the lens of the bricks and mortar financial institution, and because we do that it has this perverse or absurd result, that's what we're trying to identify and to prevent."
Sponsored Links by DQ Promote