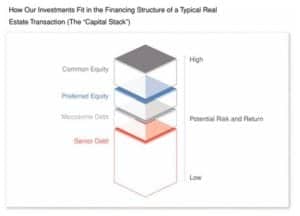 It appears that RealtyMogul, an online real estate investment platform, is preparing a new fund for investors.
According to a filing with the Securities and Exchange Commission, RealtyMogul is looking to offer a new "blind pool" REIT under Reg A+. The offering is seeking up to $50 million from both accredited and non-accredited investors. A minimum amount of $1000, or 100 shares at $10 each, is needed to participate in the fund. The REIT expects to make regular distributions to investors.
According to the document;
"… the Company is set up as a "blind pool" REIT, which means that we are not committed to acquiring any particular investments with the net proceeds of this offering.  Investing in the Company can lead to greater diversification because the Company intends to invest its assets in multiple real estate opportunities.  However, unlike other investment opportunities on the Realty Mogul Platform, a purchaser of our common shares may not know what investments the Company will make with its assets at the time the investor purchases our common shares. Although our Manager currently manages another REIT with similar investment objectives, MogulREIT II, Inc., MogulREIT II, Inc.'s portfolio primarily consists of preferred equity and joint venture equity investments in multifamily properties, and its investment strategy differs significantly from the Company's investment strategy."
As noted in the filing, this new REIT is set up differently than RealtyMogul's other Reg A+ REITs.
As of March 2018, excluding loan originations secured by residential real estate, the RM Originators had originated 116 investment opportunities with a total of $301 million.  Of those 116 investment opportunities, 25 were senior or mezzanine loans secured by commercial real estate properties with an aggregate loan value of $146 million and 91 were common and preferred equity investments in entities controlling commercial real estate with a total investment value of $155 million.
The blind pool REIT may also use leverage, up to 70%. The REIT expects to hold a minimum of 55% in commercial mortgage related instruments. Other possible assets include a more diverse range of real estate related securities including CMBSs and CDOs..
Interestingly, the filing staters "we expect to seek a liquidity transaction in the future," noting that this event could come in many different forms, if at all.
Have a crowdfunding offering you'd like to share? Submit an offering for consideration using our Submit a Tip form and we may share it on our site!