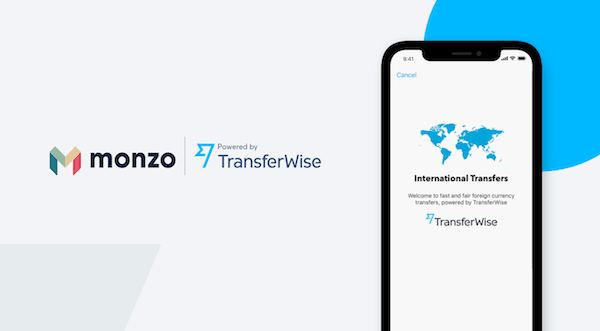 On Monday, challenger bank Monzo announced it has formed a new partnership with money transfer service TransferWise to provide international money transfers from within its mobile app. According to Monzo, through the payments tab in the app, uses are able to make payments overseas to sixteen of foreign currencies, with more reportedly coming soon. Users do not need to already have a TransferWise account, but if they do, they can login to that account to keep everything in one place. Monzo also reported that this new service will be available to some users, with support rolling out to all users over the next few weeks.
"From the Payments tab in your Monzo app, just tap Bank transfer and then International. From there, you'll be able to choose who you're sending money to and give their details. Once you make the transfer, you'll be able to see its progress live in the app and know when it's arrived. And that's it! If you don't yet see the International option, don't fear! We're rolling out support for TransferWise gradually over the next few weeks so you should see it pop up soon. If you really need access now, let us know."
Monzo then explained TransferWise charges a small fee for each overseas payment users make, of which a small share goes to Monzo. This will always be shown transparently before users send any money and it'll never cost them more money because they're going through Monzo.
"We've specifically partnered with TransferWise because we love their commitment to fair, transparent and low fees in an industry that typically charges extortionately!"
The sixteen currencies that will be available are the following:
AUS Dollar ($)
Brazilian Real (R$)
Canadian Dollar ($)
Danish Krone (Kr.)
Euro (€)
Hungarian Forint (Ft)
Indian Rupee (₹)
Malaysian Ringgit (RM)
Nigerian Naira (₦)
New Zealand Dollar ($)
Pakistan Rupee (Rs)
Polish Zloty (zł)
Romanian Leu (lei)
Swedish Krona (kr)
Thai Baht (฿)
US Dollar ($)
Sponsored Links by DQ Promote