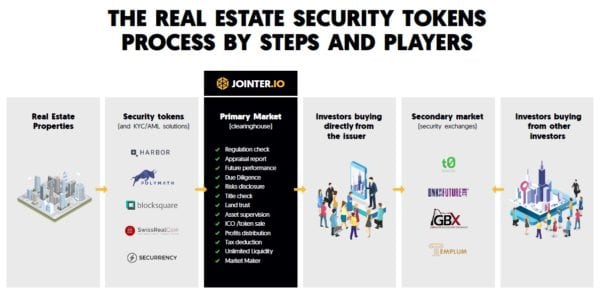 Jointer is claiming to be the first security token platform for the real estate market.
Currently, there is a lot of talk about blockchain enabling the securitization of real estate offerings making it simpler for issuers and simpler for investors to participate in the asset class in a highly diversified manner. You cannot go to an ICO / security token conference without this topic being discussed. Jointer has apparently taken this message to heart by launching an initial coin offering (ICO) platform that enables issuance and trading of commercial real estate investments.
Jointer is effectively replicating what Harbor, Polymath, Securitize and Blocksquare are doing. But they are doing it for the commercial real estate vertical. Jointer states that in the real estate industry, the issuers of security tokens are required to follow extra regulations that require: conducting a valuation report by independent appraisal, disclosing history performance of the property, underwriting property future performance, disclosing principle track record, running a title check to disclose debt and liens, and more.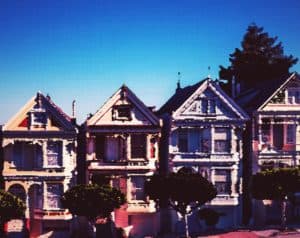 Of course it is necessary to file for the necessary securities exemption (IE Reg D or Reg A+) and create a private placement memorandum (PPM) to disclose the risk and expectations to investors. If you are accepting global investors, you may need to comply with a diverse range of jurisdictions – not to mention taxes. Jointer says it solves this problem acting as a clearinghouse intermediary between investors and property owners, protecting both sides by ensuring transactions happen as planned, are compliant with all regulations, and have proper maintenance and transparency of materials and information.
Jointer states that it will handle all of the necessary diligence that can take some time. Think checking the property title or searching for liens. Or perhaps reviewing the market to confirm the actual price is realistic and not inflated. If you are an institutional real estate investor doing these things takes considerable effort. If you are a smaller investors its a pain… Jointer claims;
"All those problems and many more are the reasons why regulations require a primary security market to perform a clearinghouse with deep due diligence and transparency as Jointer does."
Jointer says they are offering a process without a minimum investment so individuals may purchase security tokens without excessive risk. They also are targeting non-accredited investors.
Regarding the secondary market, Jointer states;
"Since it is still not yet legal for secondary securities markets to offer exchange trading, Jointer acts as a market maker, offering unlimited liquidity using a reserve structure to buyback security tokens."
Jointer makes its money with a JV structure with investors and splits the profits – so they have skin in the game.
Jointer claims to have developed a machine learning based prediction algo that is capable of using only the address to instantly analyze any commercial real estate property and provide a forecast of the potential worth for the next ten years. That is something I would like to see.
So is this the future of real estate crowdfunding? Many people would absolutely state this concept is the way going forward.
Jude Regev, CEO of Jointer, commented on the launch;
"After 200 years of the traditional real estate process, Jointer is excited to finally democratize the industry, and offer an equal chance to not only professionals and big investors but also small and first-time investors, to decide how much to invest without any minimum amounts required and without any experience or knowledge needed. We are completely changing the way real estate investments are run by turning the industry to trade properties like stocks on the stock market with full transparency, instant processing, and unlimited liquidity."
The Jointer site is accepting emails now if you are interested.

Sponsored Links by DQ Promote