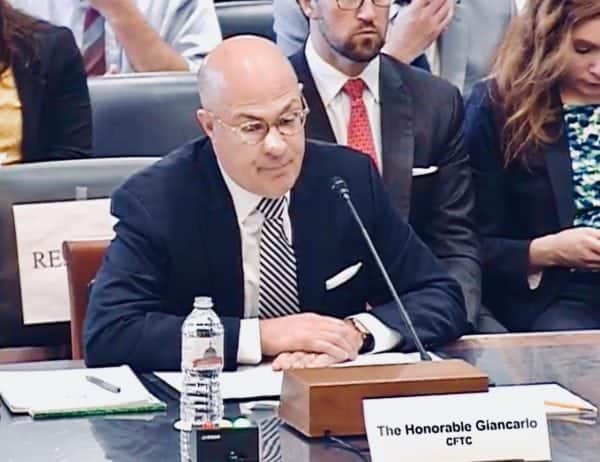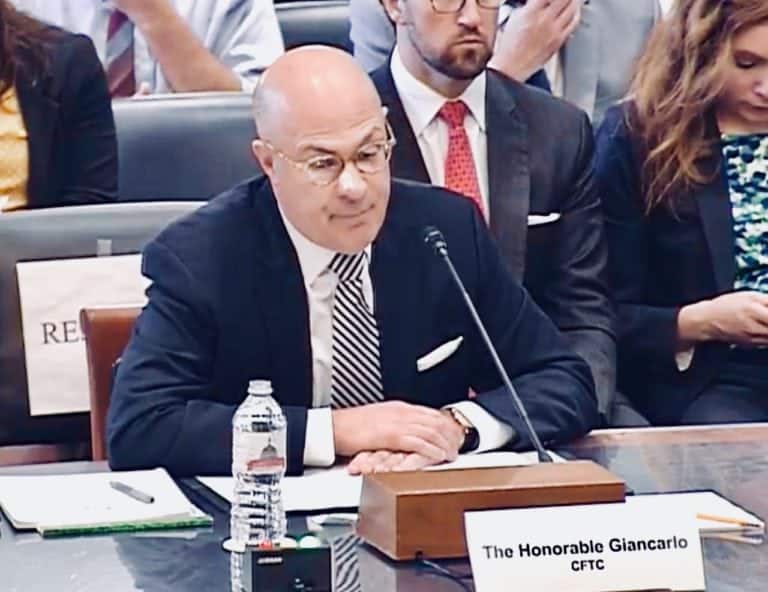 Yesterday, J. Christopher Giancarlo, Chairman of the Commodity Futures Trading Commission (CFTC), spent some time on Capitol Hill testifying in front of the House Committee on Agriculture.
While Giancarlo's prepared remarks, and ensuing comments driven by questions from the Committee, covered a wide range of policy issues associated with the CFTC, Giancarlo also made some interesting comments pertaining to blockchain development and cryptocurrencies.
Within his prepared statement, Chair Giancarlo addressed their oversight of "virtual currencies."
"The hearing last week before this committee examined the opportunities and risks involved in the evolution of digital currencies. Emerging financial technologies [Fintech] are taking us into a new chapter of economic history. They are impacting trading, markets, and the entire financial landscape with far ranging implications for capital formation and risk transfer. They are transforming the world around us, and it is no surprise that these technologies are having an equally transformative impact on U.S. capital and derivatives markets.

Knowing the challenges ahead, my focus as Chairman has been guided by six broad elements concerning virtual currency: (1) staff competency; (2) consumer education; (3) U.S. interagency cooperation; (4) exercise of authority; (5) strong enforcement; and, (6) heightened review of virtual currency product self-certifications."
Giancarlo said the CFTC has been particularly assertive regarding enforcement actions and digital currencies. Similar to the SEC, the CFTC has an internal virtual currency enforcement task force to consolidate knowledge within the digital asset class. He highlighted several enforcement actions taken by the CFTC in recent months such as My Big Coin Pay and Entrepreneurs Headquarters Limited.
[clickToTweet tweet="Similar to the SEC, the CFTC has an internal virtual currency enforcement task force to consolidate knowledge within the digital asset class" quote="Similar to the SEC, the CFTC has an internal virtual currency enforcement task force to consolidate knowledge within the digital asset class"]
The Chair said his agency is "working closely with the SEC" and other federal agencies to pursue acts of fraud and malfeasance.
While emphasizing the CFTC's enforcement chops, Giancarlo also pointed out to the Commission's Fintech innovation efforts.
Giancarlo reviewed the fact that the CFTC has partnered with the UK Financial Conduct Authority (FCA), largely viewed as the gold standard when it comes to enabling innovation and competition in financial services, with a Fintech innovation arrangement.
"We believe that by collaborating with the best-in-class FCA Fintech team, the CFTC can contribute to the growing awareness of the critical role of regulators in 21st century digital markets."
Lab CFTC, managed by Daniel Gorfine, has held 200+ meetings with both large and small innovative financial firms.
A consistent advocate of self regulation, Giancarlo said there is a subcommittee, part of the Technology Advisory Committee (TAC) at the CFTC that is "addressing questions surrounding virtual currency including suggesting self regulatory policies for trading platforms." Led by CFTC Commissioner Quintez, Giancarlo expects some "robust" recommendations from the Committee in the coming months.
But during the Hearing, Giancarlo voiced his concern that the US is not well prepared, or doing enough, to foster an innovation driven financial sector. This is a concern that has been voiced from others, both inside the beltway and outside its policy bubble. The CFTC is apparently struggling to stay ahead of the global innovation curve.
According to statute, the CFTC lacks certain authority to work with innovative Fintech firms to trial and test new concepts. In a twist of legislative language, if the CFTC engages directly with a Fintech to research or test a service – this may be deemed receiving something of value without a formal procurement. In his prepared remarks, Giancarlo stated;
"The Commission would like the ability to partner, collaborate, or engage in a cooperative agreement regarding emerging financial and compliance technologies with persons or entities; Federal, State, or local agencies or instrumentalities; or foreign governments or international organizations. Legislation recently introduced by Congressman Austin Scott provides such authority and would greatly enhance the Commission's ability to keep pace with emerging technology, explore its potential, and facilitate its adoption."
There exists legislation today, the "Commodity Futures Trading Commission Research and Development Modernization Act" (HR 6121), that may address this regulatory shortcoming.
Asked how the bill will improve the CFTC, Giancarlo said he has been approached by some of the most interesting innovators in the space – especially in the areas of blockchain. He shared an example of multiple organizations coming together to experiment with a blockchain based trading platform, mentioning credit default swaps and bank payments.
Giancarlo said they were invited to join in the project;
"Hey CFTC, why don't you participate in this proof of concept [PoC]?" – Giancarlo said they asked.
The collaboration would include an embedded team from the CFTC to observe. Giancarlo speculated about a CFTC node being created in the blockchain where the Commission could monitor all of the activity – the Holy Grail of Regtech. But the CFTC is barred from this type of participation within the private sector.
No Gifting to the CFTC Allowed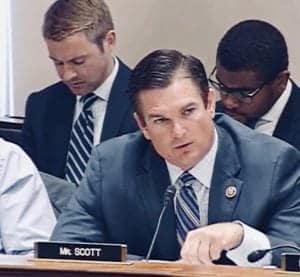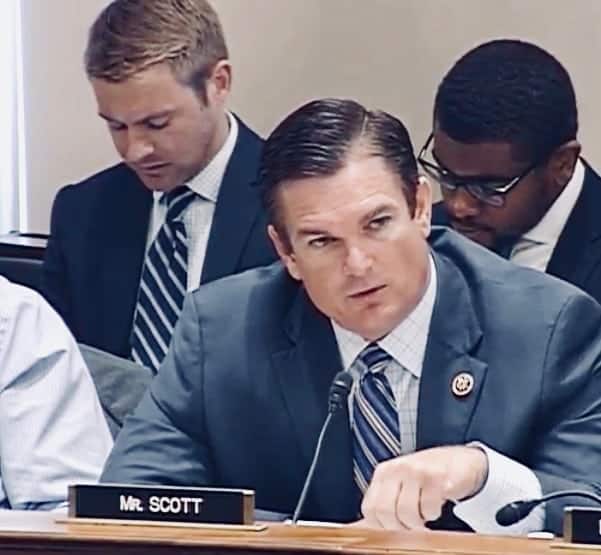 The bill would now allow the CFTC to participate in these types of proof of concept projects so they can learn and, hopefully, become better prepared for the digital future of finance.
Posing a rhetorical question in response to a query from Representative Scott, Giancarlo asked why is this so important?
"Because we are falling behind," Giancarlo stated.

"Just two days ago, the Bank of England announced that they are putting in a new bank to bank payment system in the UK and it's going to be blockchain compliant … they have had the last four years, under what they call project innovate, to participate in all of these blockchain beta tests that we have not been able to participate in."

"I feel like we are four years behind…"
Giancarlo said first he wants to understand how things work before there is any type of appropriation action to invest into a new, potentially blockchain powered, system.

The financial services sector is a global market yet regulatory jurisdictions are largely established by national boundaries. Understanding the need to compete on a global level in financial services would help with any legislation, or regulatory action, that may be focused on domestic need but inevitably may impact, perhaps negatively, international activity.

The video of the hearing is below.

Sponsored Links by DQ Promote