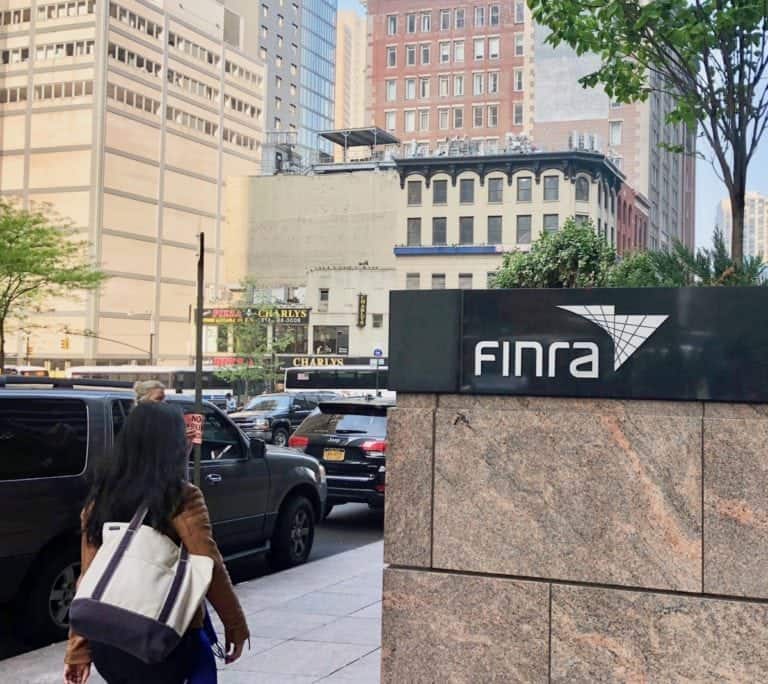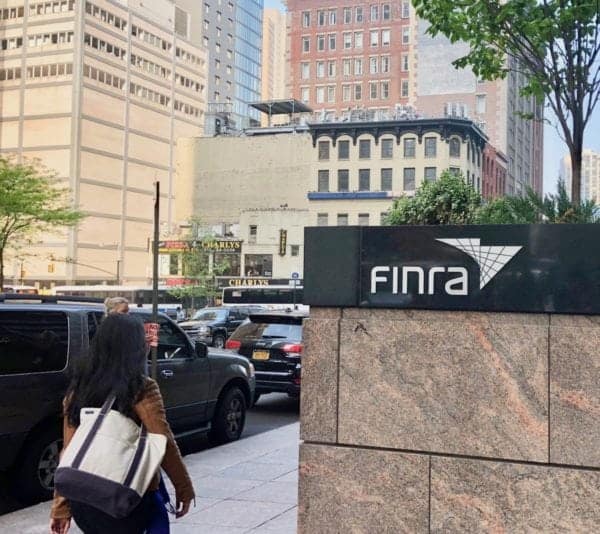 FINRA (Financial Industry Regulatory Authority) has issued a consultation on Financial Technology or Fintech and the Broker Dealer industry. The Special Notice was published at the end of July and is seeking comments until October 12, 2018.
FINRA currently has over 3700 member firms in the financial services industry that it regulates.
According to the posting;
"New financial technology innovations, commonly known as "Fintech," can offer benefits for investors and the financial services industry, but can also present investor protection concerns where the safeguards of the securities laws are not respected. FINRA's discussions with representatives of the fintech industry and our member firms through our Innovation Outreach Initiative have enabled us to better understand market participants' interest in efforts among regulators to create an environment supportive of fintech innovations that benefit investors and the capital markets. Moreover, we have received several requests to solicit feedback from the broader public regarding how FINRA may support fintech innovation consistent with our mission of investor protection and market integrity. In response to these requests, we are seeking comments on how FINRA can support fintech development consistent with this mission."
FINRA is asking for feedback on areas where their rules or processes could be improved to better support Fintech innovation. Of course, any benefits of Fintech must be consistent with their mission of safe guarding market integrity and investor protection.
FINRA has been urged by some of their stakeholders to modify their rules so members can test Fintech based models. This includes the emerging digital asset market – IE cryptocurrency or blockchain (DLT) based securities.
Along with general comments, FINRA is seeking insight on three specific topics:
Provision of data aggregation services through compiling information from different financial accounts into a single place for investors;
Supervisory processes concerning the use of artificial intelligence
Development of a taxonomy-based machine-readable rulebook.
In recent years, FINRA has been criticized as a monolithic self regulatory entity that had become tone deaf to their members. This changed to a degree when Robert Cook took over as CEO and initiated new programs to address cultural inertia including projects such as FINRA 360 , an Innovation Outreach initiative, and a Fintech Industry committee. More recently, FINRA has made a concerted effort to better understand and address the issues and opportunities of distributed ledger technology, ICOs and the digital asset market.
Questions regarding the Special Notice on Fintech may contact:
Questions regarding this Notice should be directed to:
Haimera Workie, Senior Director, Office of Emerging Regulatory Issues (ERI), at (202) 728-8097;
Kavita Jain, Director, ERI, at (202) 728-8128; or
Alex Khachaturian, Director, ERI, at (202) 728-8275.
---
FINRA on Fintech Special-Notice-073018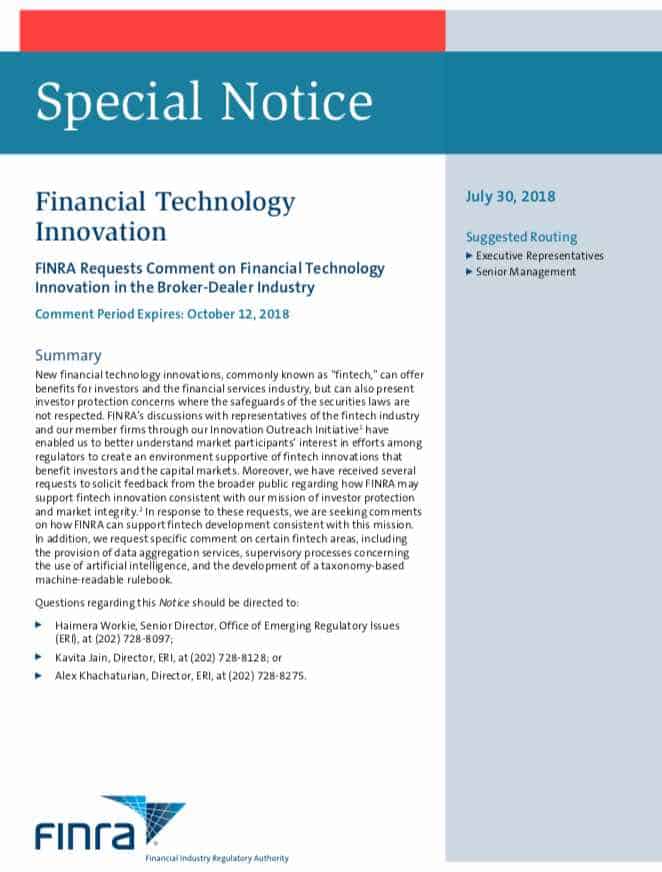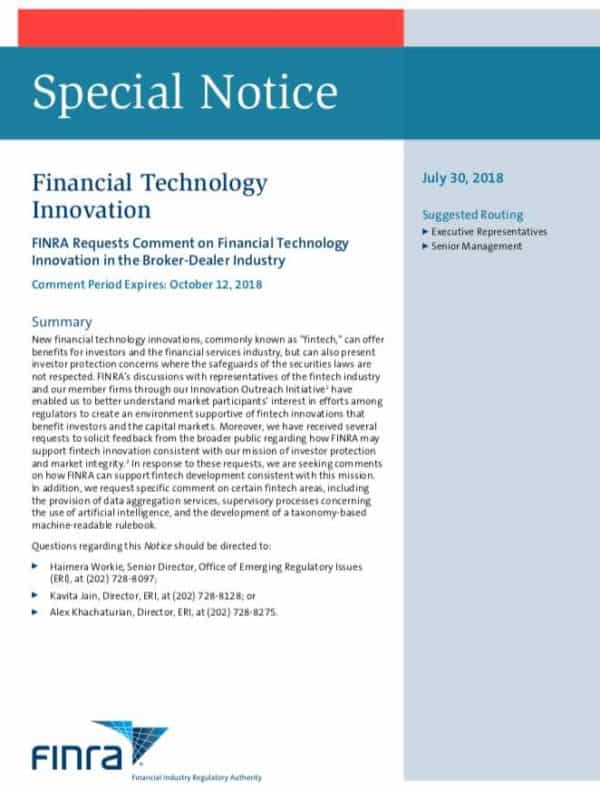 Sponsored Links by DQ Promote