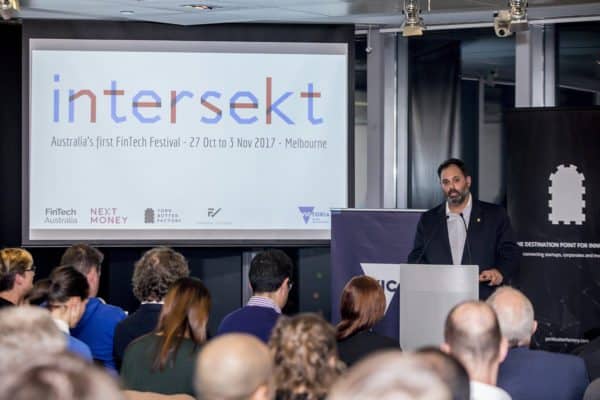 FinTech Australia has shared that the Victorian Government will increase its support for Fintech by signing on to be the major sponsor of Intersekt for the next two year.  Intersekt is billed as the leading Fintech event in Australia.
"The Victorian Government and Minister Dalidakis continue to demonstrate their leadership and support for startups and the Fintech ecosystem, through the sponsorship of this important conference for the next two years," said FinTech Australia CEO Brad Kitschke. "Intersekt is a must-attend for anyone involved in Fintech and we are extremely excited that our partnership with Minister Dalidakis and the Andrew's Government will keep Melbourne the home of Intersekt for the next two years.
Kitschke said they are doing their best to make 2018 better than ever.
Victorian Government Minister for Trade and Investment, Innovation and the Digital Economy The Hon. Philip Dalidakis said he looked forward to the conference and to the ongoing partnership with FinTech Australia,
"Attracting delegates from the Asia Pacific region and beyond, Intersekt brings together the most creative minds in the Fintech sector. Innovations in financial technology are revolutionising the way we do business and are crucial to Victoria's future economy and jobs. I look forward to joining FinTech Australia in welcoming all delegates to this not to be missed conference in October."
FinTech Australia also announced that LaTrobe University will be a Gold Sponsor of the event and its exclusive education partner.
This year's conference will feature the launch of the EY FinTech Census Report, the launch of FinTech Australia's open banking campaign, and an investor matching deal day. The event is scheduled to take place this October.