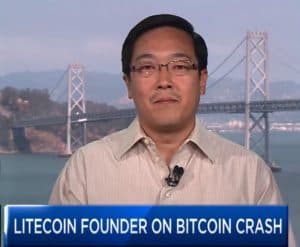 Charlie Lee, founder of a retail payments-focussed cryptocurrency called Litecoin, told CNBC this week that crypto bear markets can be a good time for people working on crypto projects to keep their noses to the grindstone, and might also be a good time to pick up a little discounted crypto, but only with money one can afford to lose.
Lee made a distinction between the value (true utility) of crypto networks and speculative valuation. For the time being, said Lee, the two are not correlated:
"This year there has so much (retail) adoption in Bitcoin and Litecoin, but the price (has) dropped, like, 60 or 70%…it's because it's so volatile, it's all about speculation these days, but in the future the price will reflect the success of the cryptocurrency."
Lee sold all his Litecoin holdings last December at the top of the market citing concerns about "conflict of interest." For that reason, he told CNBC interviewer Melissa Lee,  "I'm not gonna buy back my litecoins any time soon, or at all."
He did agree with Lee that bear market "price reprieves" can be a good time to get into a certain markets, albeit cautiously:
"It's always good to buy on the way down, to dollar-cost average your buy-in…As long as you don't spend money that you can't afford to lose, I think that's fine.
Lee referred to some of the wild investor behaviour witnessed during last year's precipitous bull market, when stories of loans taken out to invest in crypto and dangerously-leveraged positions were common.
"I think its really bad for people who mortgage their house, put all their money into a coin and then watch it drop like 80%."
Lee has repeatedly warned about the experimental nature of cryptocurrency technology networks and the considerable risks of investing in them.
"But as long as you can afford to, I'd say spending some money to buy crypto is perfectly fine."
Lee said he hopes that attendees at the upcoming Litecoin summit in San Francisco will focus on technology, merchant adoption and scaling, "things like (the) Lightning Network or side chains helping Bitcoin and Litecoin to scale. I'd like to see more talk around that."
Lee said he has also found past bear markets in crypto to be good for the underlying tech:
"With the price actually depressed, I think its a good time for people to sit down and have their head down and actually work and get stuff done, and that's what I've seen in the past few bear markets, actually."
---
Litecoin founder Charlie Lee reveals what he sees for bitcoin from CNBC.

Sponsored Links by DQ Promote