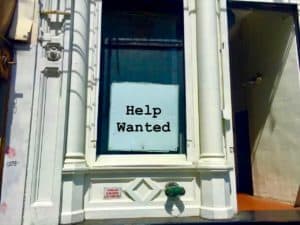 American crypto exchange Coinbase is hiring massively to staff brand new New York offices built exclusively to accommodate institutional clients, Coindesk reports.
The exchange held a party to inaugurate the new office last week. Employees had previously occupied co-working space at WeWork NYC.
Coinbase hopes to bring the total number of employees staffing its institutional trading desk from 20 to 150 by next year, when some sort of mainstream push into crypto investing is anticipated.
The current market downtrend in crypto, says Adam White, General Manager of Coinbase Institutional, has done nothing to slow expressed interest from institutions:
"When we saw the market begin to correct, which we all expected, institutions didn't lose interest…They look at it as an opportunity to enter when things are not too frothy."
Though it is a relatively new financial services firm, Coindesk is not shy about attracting talent from Wall Street, and according to Coindesk, is already home to former staff from the NYSE, Barclays, and Citigroup:
"We have to create a bridge between financial services and technology … In order to do that, we need to pull from some of the best and brightest minds that have worked their whole careers in other kinds of traditional financial firms."
A recent comprehensive inspection of 23 crypto exchanges in Japan found weak business practices at most. Poor service levels and frequent hacks on exchanges across the globe also suggest the problem is a common one.
Coinbase has, from the beginning, sought to establish itself as one of the most mainstream-friendly, compliant and professional exchanges, and the presence of staff with a background in mainstream finance can only help this image.
Last week, the CCO of Bitcoin payments processor BitPay said that institutional acceptance and adoption are the precursors needed to initiate the next bull market in crypto.
Coinbase also appears to think institutional adoption key, and says it will pave the way for the next round of retail investing.
But retail investors not only want permission from mainstream institution. They also want access to vetted crypto investment products furnished by them.
Christine Sandler, Coinbase's Head of Institutional Sales told Coindesk:
"We want to partner with appropriate institutions to help the whole ecosystem grow. It's not 'institutional or retail,' because a lot of these institutions will be distributors."
Sponsored Links by DQ Promote