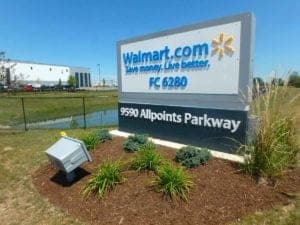 "…(T)he traditional paper-based method of capturing information…at many farms, packing houses and warehouses…is extremely time-consuming," says retail giant Walmart, and has exaggerated the impact of recent food contamination crises in the US.
Walmart will therefore be requiring its suppliers of romaine lettuce to begin tracking their produce using IBM blockchain technology that the mega corp says it has been testing for the last 18 months.
Walmart made the announcement in blog post mounted yesterday.
According to the post, the decision to order implementation of a blockchain produce tracking system comes after a serious outbreak of E.coli this year sickened 210 people in 36 US states and killed 5.
The latest outbreak was apparently spread by contaminated romaine lettuce emanating from farms in Yuma, Arizona. Standard labelling on packages of romaine lettuce circulated by Walmart at the time of the outbreak, however, did not indicate product origins, making it,"…difficult for consumers to know…where their lettuce was grown," said Frank Yiannas, VP of Food Safety at Walmart.
Walmart says the obscure origins of the lettuce meant million of heads had to be discarded and that reputations of even unrelated farms were hurt.
Suppliers of romaine lettuce to Walmart and Sam's Club have now been informed by letter that they are required to implement an IBM blockchain system for food tracking and, "…are expected to have all these systems in place by this time next year."
Walmart believes a more efficient produce tracking system will help reduce the harms associated with food contamination crises. The letter to suppliers states:
"..while fresh leafy greens are overwhelmingly safe when you consider per capita consumption rates… unfortunately, over the past decade, there have been multiple high profile recalls and outbreaks associated with these types of products…This resulted in millions of bags and heads of romaine lettuce having to be removed from the market place and a loss of consumer confidence in romaine lettuce, regardless of growing region…"
Walmart says it has, "…demonstrated that meaningful enhancements to food traceability is possible," and says its 18-month piloting of an blockchain product tracking system has greatly enhanced its product tracking capacities:
"Using the IBM Food Trust network that relies on blockchain technology, we have shown that we can reduce the amount of time it takes to track a food item from a Walmart Store back to source in seconds, as compared to days or sometimes weeks."
The letter to suppliers states that, as part of Walmart's new Food Traceability Initiative:
"All fresh leafy greens suppliers are expected to be able to trace their products back to farm(s) (by production lot) in seconds – not days. To do this, suppliers will be required to capture digital, end-to-end traceability event information using the IBM Food Trust network."
Walmart says it will also be contacting suppliers regarding food safety measures and, "adherence to leading-edge Good Agricultural Practices…in a separate communication on this topic."

Sponsored Links by DQ Promote