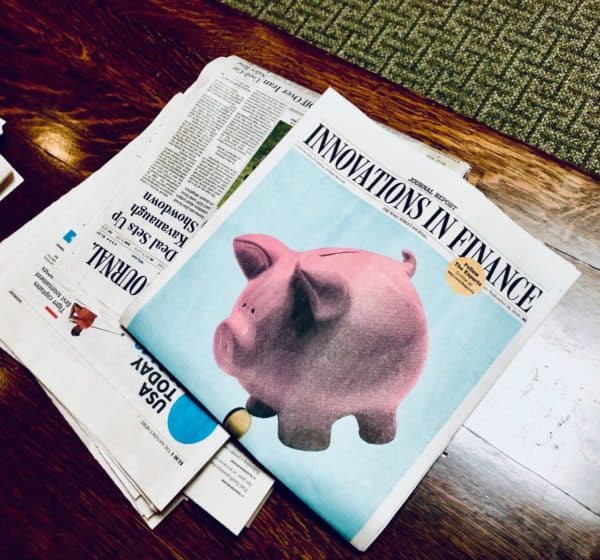 "I realized if you really want to understand this crypto craze, you kinda have to be a part of it."
And so begins the short documentary profiling Wall Street Journal cryptocurrency reporter Steve Russolillo's effort to create, and then desert, a Wall Street Journal-branded cryptocurrency.
"I've been a markets reporter for 10 years, but I've never seen anything as wild as the cryptocurrency frenzy," he says. "Beyond Bitcoin it seems that everybody wants to create their own cryptocurrency: Kodak, Playboy, Venzuela…"
Russolillo begins the crypto-creation process by travelling to Japan, "a true crypto society…where the crypto industry has flourished in recent years."
There he interviews the spectacular, "Virtual Currency Girls," a band of attractive, cutely and colourfully-dressed young female pop singers created to market crypto.
One Virtual Currency Girl told Russolillo the band's origin story:
"We used to be in a different band. One day, we were suddenly told, 'You are now The Virtual Currency Girls.' We were given masks and these maid costumes. That's how our new band started."
Next, Rusollilo meets Professor Yasushi Fuji, who drives a so-called "blockchain car" maintained automatically through Bitcoin payments. The professor pays for lunch at the school cafeteria with his university's dedicated cryptocurrency, which he says benefits students by exempting them from having to use credit cards.
The school's in-house digital currency also enables the school to monitor, "how money is being used on the school premises."
This revelation in the documentary is key, and is something rarely highlighted in other journalistic or externally-promoted coverage of the sector: digital currency as simultaneously a possible payment system and potential surveillance mechanism.
The professor then leaves the school with Russolillo to go and sell the notion of a local crypto to town officials, based on the idea that it will generate much "precious data."
"Once you see these spending patterns, you know where to invest money," the professor tells Russolillo. He also suggested the data could be used to flow money to the truly needy in times of financial crisis.
Russolillo then consults on the technical aspects of creating the WSJ coin, and agrees to build the coin on the Iroha blockchain. He and the Iroha consultant decides to set the coin's supply based on the average coins created by the top ten cryptocurrencies already in circulation: $8.4 billion.
The consultant then starts trying to establish retailers in Tokyo willing to accept the coin, and at a bar in the city, the reporter randomly decides to set the value of the WSJ coin at "one beer."
It takes the consultant 45-minutes to code the bartender's account.
Next comes the all-important exchange listing.
An exchange worker tells Rusollilo that unless the coin has a future as method of payment, it will not succeed, but says he believes the Wall Street Journal's brand will go a long way towards encouraging its acceptance.
Russolillo then starts promoting the coin at a big crypto conference in Hong Kong, where his pitch goes, "very well," but where he also encounters his first skeptics.
"Many people are trying to apply blockchain to whatever comes to their mind, simply because there is a hype around it. I think you have to think about whether the technology brings something to the table and is useful…and there are projects out there where even I have trouble understanding why they need blockchain all of a sudden," one tells him.
Rusollilo and the WSJ then present the question, "Will the WSJ coin save the newspaper industry?" on a panel at a WSJ tech conference in Hong Kong
The CEO of Bitpesa, Elizabeth Rossiello, suggests a dedicated newspaper coin might help her avoid the frustration of having to type in her credit card details every time she wants to read an article. "It's a great use case for paywalls."
Former Ripple CTO Stefan Thomas then floats a scenario where a browser could automatically stream payments.
Ultimately, the principles of journalistic neutrality prevail over the Russolillo experiment, when the Wall Street Journal's in-house ethicist, Neal Lipchutz,  shoots down Russolillo's tongue-in-cheek proposal of, "a coin to save the newspaper business."
"Sorry, Steve, no," says Lipschutz. "We're not in the business of getting into the cryptocurrency world. We're here to report it and to explain it, just like we report on banks. Just like we're not going to go out and start a bank, we're not going to go out and start a cryptocurrency."
Lipschutz adds:
"If we had a competing entity in the very area that we cover, I think people could lose some trust in our objectivity."
Sponsored Links by DQ Promote