CI reported earlier this week that Robinhood, a Fintech that provides trading in both traditional and crypto assets and more, had announced new checking and savings accounts that would pay holders 3% interest. Even better, Robinhood stated that these accounts would be insured by the Securities Investor Protection Corporation (SIPC).
SIPC oversees any liquidation of member broker-dealers that close. The SIPC may expedite the return of missing customer property by protecting each customer up to $500,000 for securities and cash including a $250,000 limit for cash only. Following Robinhood's announcement of the checking and savings accounts that were promoted as being SIPC insured, the current head of SIPC questioned the claim.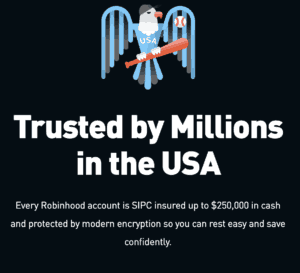 Today, the original webpage on Robinhood touting the benefits of the checking and savings accounts has been scrubbed. Now, there is only a mention of "cash management" coming soon.
In a blog post, Robinhood co-founders Baiju Bhatt and Vlad Tenev, backtracked on the original current account claims and provided almost an apology:
We're excited and humbled by the response to yesterday's announcement of Robinhood's cash management program launching in 2019. However, we realize the announcement may have caused some confusion.
As a licensed broker-dealer, we're highly regulated and take clear communication very seriously. We plan to work closely with regulators as we prepare to launch our cash management program, and we're revamping our marketing materials, including the name.
Our promise is unwavering—we always put our customers first—whether it's deciding which features to build, keeping your cash and securities protected, or offering products that allow everyone to participate in and benefit from the financial system.
So Robinhood appears to have gotten the proverbial cart before the horse.
Regardless of this fumble, Robinhood clearly intends on providing bank-like current accounts. If they can do so at a low cost to consumers while providing an industry leading interest rate, that will be a big win for their users.