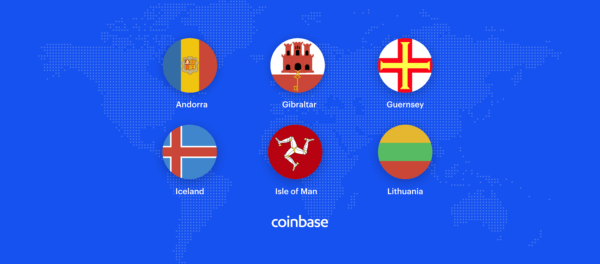 Coinbase announced on Thursday it is expanding to six additional European markets. The online cryptocurrency platform now operates in 33 countries across the globe. Speaking about the expansion, Coinbase reported:
"New customers in these markets will be able to make full use of Coinbase.com and our iOS and Android apps, allowing them to buy and sell cryptocurrencies on the Coinbase platform for the very first time. We also hope to make Coinbase Pro and Prime available in these regions over time."
The six countries are the following:
Andorra
Gibraltar
Guernsey
Iceland
Isle of Man
Lithuania
Coinbase went on to reveal that next year it will continue expanding rapidly into new regions and adding assets to the platform to meet customer demand. The company added:
"Cryptocurrencies are global by their very nature and we believe that they should exist without borders. To realize our mission means making crypto easily available to everyone, irrespective of their geographical location."
Coinbase expansion comes just days after the platform announced it is offering crypto conversions. The conversions are available between Bitcoin (BTC) and Ethereum (ETH), Ethereum Classic (ETC),  Litecoin (LTC), 0x (ZRX), or Bitcoin Cash (BCH).