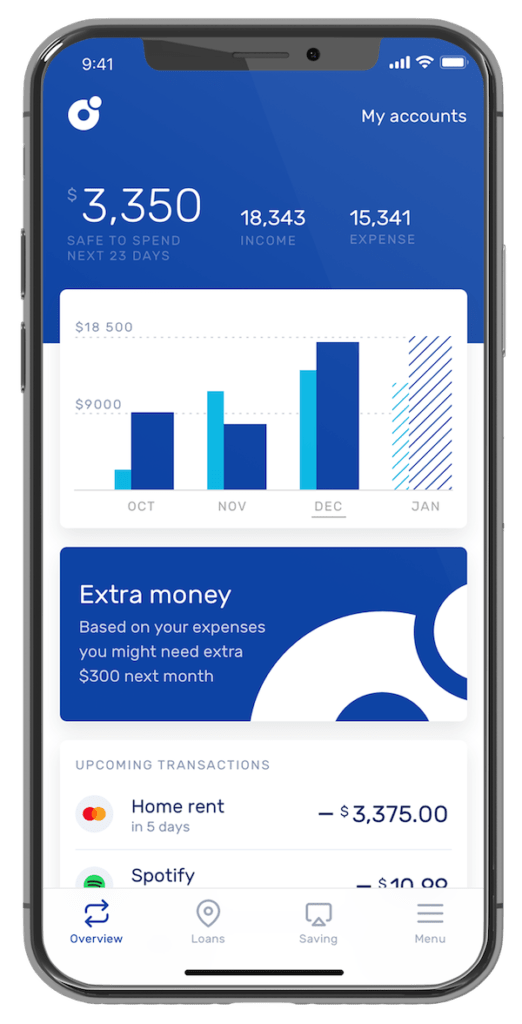 Oxygen, a digital-only bank targeting freelancers, has received $2.3 million in funding to boost their team and fuel growth.  Oxygen claims more than 13,000 bank accounts opened over the last several months, a single digit default rate and a 19% return on capital.
Oxygen says it wants to service the gig economy as it tracks freelancers' bills, projects their income and offers instant credit. Oxygen's mobile banking app is available in both iOS and Android versions.
The Y Combinator-backed Fintech has received funding from Digital Horizon Capital; Cynthia Chen, investor, advisor, executive and board member for several U.S.-based fintechs and now co-founder and Chief Risk Officer at Figure; ZMT Capital (China); Locus Ventures; Endure Capital; PioneerFund; Magic City; Light Bridge; Strawberry Creek; Base Ventures; The House Fund and Sam Yam, co-founder of Patreon.
Hussein Ahmed, founder and CEO of Oxygen, says that while there are plenty of bank options servicing the needs of traditional small businesses there is a void when it comes to the legion of freelancers:
"Even the most affluent freelancers are often denied lending services due to their variable incomes. Oxygen is the only digital banking service offering modern banking services with no fees combined with fair credit line offerings, based on an intelligent, AI-driven analysis of individual freelancers' income flows."
Investor Cynthia Chen believes that Oxygen is unique in filling this market segment:
"As the freelance economy grows in the U.S., we believe Oxygen will emerge as the dominant player to help make their financial lives more stable and manageable, and also the one with the data to back underwriting for this segment."
Freelancers are currently estimated to comprise 34% of the US workforce and this is expected to grow. The World Economic Forum has predicted that by 2027, the majority of the U.S. workforce will be freelancers.
Crowdfund Insider contacted Oxygen CEO Hussein Ahmed for additional insight regarding his vision for the digital bank. Our Q & A is shared below.
Why has Oxygen selected Evolve Bank to be their partner bank?
"Evolve is one of our banking partners – the first, actually – and we are now working on establishing a couple more, soon to be announced. Great banks realize that Oxygen and other fintechs can bring a lot to the table through differentiated products, and pursuing unique market segments while running on their same rails and infrastructure," said Ahmed. "We seek those forward-thinking partners and fortunately there are several great examples now and many others opening up to the idea of partnerships."
Does Oxygen intend on applying for a banking license?
"There is no definitive answer now. There are pros and cons. Running as the customer-facing top layer leveraging an existing bank enables us to move fast, think creatively and be lean. The cost of going it alone might seem like better unit economics long-term.  But for a startup, in my opinion, it wouldn't be a smart idea to burn that much cash to build table legs, infrastructure and incur regulatory costs to create a bank that is no different than any of the other thousands of banks out there. We would rather focus on building and delivering a great experience now that users love, than putting all our resources elsewhere."
You are currently only available in California. When do you expect to roll out to the other states?
"We did already expand nationally, except for a few states. We expect to have 100 percent of the United States covered, over the next few months."
What about your expectations to expand in Europe and Asia?
"Europe has many great contenders focused on a horizontal play (for everyone), not precisely serving freelancers. We believe we can expand Oxygen to Europe and Asia while keeping a focus on our core customer segment. Even better, with less regulations than the U.S., we can leverage many more data points than we can in the U.S."
How does Oxygen drive revenue? For users that receive credit, what is the interest rate charged?
"Oxygen has three main channels of revenue – a split on interchange fees, interest on deposits and interest spread on credit which is offered as part of a suite of bundled services paid as a flat monthly fee," said Ahmed. "Instead of charging predatory rates, through data we are able to de-risk our customers and give them an opportunity to join Oxygen Premier. This membership includes access to many banking perks in addition to no-interest credit."

Sponsored Links by DQ Promote