JP Morgan analysts have written that the main value of cryptocurrencies would be in situations of "dystopia" where investors have, "lost faith in all major reserve assets (dollar, euro, yen, gold) and in the payments system," Business Insider reports.
According to "a note dated January 24th," the JP Morgan analysts wrote:
 "We have long been skeptical of cryptocurrencies' value in most environments other than dystopia…"
The analyst also reportedly likened the popularity of "crypto assets" to that of other sentiment-informed investment cycles:
"Their boom-bust cycle is similar to the path of gold in the early 1970s, the Nikkei in the 1980s and technology stocks in the 1990s."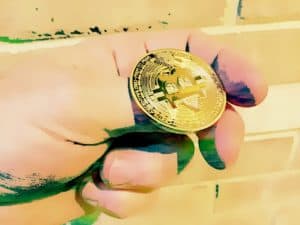 The price of one Bitcoin jumped 20-fold in 2017 but collapsed significantly last year.
Much of the 2017 price growth occurred in the six weeks between early November 2017 and mid-December, when the price of one Bitcoin jumped from ~$7000 USD to briefly reach an all-time-high price of ~$20 000 USD.
During that period of exuberance, Bitcoins in South Korea traded for an additional 30-40% premium.
Today, one Bitcoin trades for around $3500 USD, and the "kimchi premium" reportedly sits at around 5%.
Some investors still believe, however, that Bitcoins could help diversify a portfolio.
Though the price of Bitcoins has aligned somewhat recently with the price of US equities and EM Bonds (local currency), according to JP Morgan, that correlation is still rather low.
That said, the JP Morgan analysts also note:
"Low correlations have little value if the hedge asset itself is in a bear market."
There is some debate about the "real utility" of Bitcoins.
Most crypto-aficionados will admit that early Bitcoin found most of its users in underground "Dark Net" (Internet black) markets, where they were mostly used to transact for drugs and other illegal services.
As "the crypto space" becomes more regulated, illegal use may become more difficult, resulting in a dampening demand for the coins.
That said, a number of anonymizing technologies, including "tumbling," "mixing" and the Lightning network, have lately been enhanced/implemented with the stated goal of adding privacy to Bitcoin.
There are also a number of "privacy coins" available in crypto markets, though the privacy efficacy of these is sometimes debated.
Critics have also questioned the investment structure of the Bitcoin network.
In October, a Stanford-trained Brazilian professor called Jorge Stolfi urged the SEC not to approve a bitcoin-based ETF for sale in the US, arguing that bitcoin is a "negative sum" system whereby price increases are exclusively fed by new participants, like a pyramid scheme.
Stole also argued that miners "tax" the Bitcoin network for an estimated $10 million in processing fees every day.