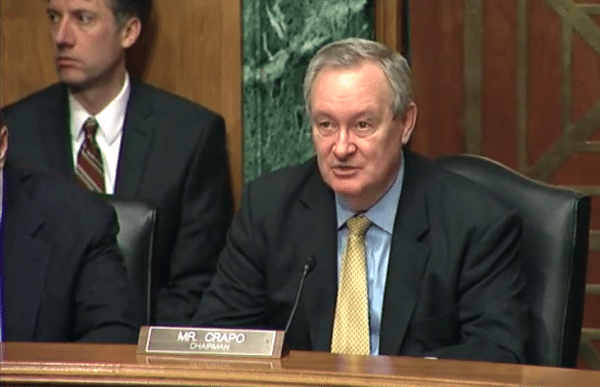 Yesterday, the US Senate Committee on Banking, Housing, and Urban Affairs outlined their top priorities for the 116th Congress. The Chairman of the Committee, Senator Mike Crapo, explained:
"[we] will continue to identify and move bipartisan legislative solutions that promote economic growth; build a record for legislative action on the collection, use and protection of personally identifiable information by financial regulators and financial companies; advance presidentially-appointed nominees; and ensure federal agencies implement the Economic Growth, Regulatory Relief and Consumer Protection Act (EGRRCPA), Foreign Investment Risk Review Modernization Act (FIRRMA), and the Countering America's Adversaries Through Sanctions Act (CAATSA) consistent with congressional intent."
Senator Crapo bulleted out the important issues such as encouraging capital formation, reducing burdens for smaller businesses, and improving corporate governance.
Buried within the list was the topic of Fintech.
"Fintech is providing new and innovative products and services in areas such as marketplace lending, digital payments and currencies, wealth management, insurance and more. As this sector continues to grow, it is worth examining what improvements can be made to ensure the regulatory landscape welcomes that innovation."
An encouraging statement but the devil is always in the details.
While the US has one of the most robust Fintech innovation ecosystems in the world the current regulatory environment stymies this innovation with duplicative rules and antiquated regulations.
While many international jurisdictions are looking to foster more competition and encourage innovation in financial services, too frequently the US is mired in a debate between state-based regulators and the dozen or so federal regulators that touch financial services. The Byzantine regulatory labyrinth foists a significant, and unnecessary, tax upon the populace.
Regulatory harmonization should start with the redundant states and end with the reduction of federal agencies that regulate financial service firms. As the US Department of Treasury stated last year in a powerful report: "regulators must be more agile than in the past in order to fulfill their statutory responsibilities without creating unnecessary barriers to innovation."
Perhaps it is time for a Financial Regulatory Rationalization Act?