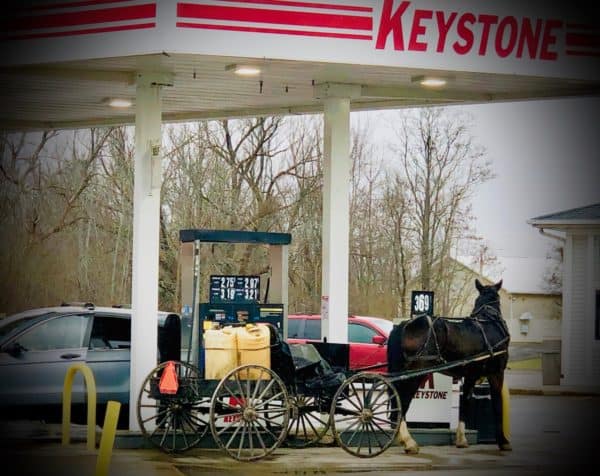 Bitcoin advocates and companies like Ripple have long been critical of slow and expensive cross-border money transfer services provided by banks and other traditional firms.
Ripple's CEO Brad Garlinghouse presides over a vast sum of publicly-tradable XRP crypto tokens which the company has used to bankroll its efforts to depose Swift.
Garlinghouse has called Swift "a horse and buggy" and his own product "a race car," and even bragged to Bloomberg last November:
"What we're doing and executing on a day-by-day basis is, in fact, taking over Swift."
Ripple boasts many devoted investors, some of whom refer to themselves in social media as "the XRP army," and at least one of whom threatened the life and family of a critic recently.
But Bitcoin, too, has many devotees who have long despised Ripple. Bitcoiners regularly accuse Ripple company founders of selling out the Bitcoin distributed ledger model and "printing money" in order to personally enrich themselves and strengthen corrupt banks' monopoly over global money supplies.
Ripple was recently attacked for allegedly overstating the extent of its global banking relationships.
Now critics inside banking are claiming that while focussing on the technology, Ripple has underestimated the regulatory complexity of creating a cross-border system to rival Swift.
According to reporting in American Banker, not only is Ripple's "transparent" ledger not particularly appealing to correspondent banks, who don't want to show each other the balances they handle, Swift's head of the global banking market, Wim Raymaekers, says Ripple's lack of  established relationships with KYC-reliable firms in other legislative regions make the speed of its technology irrelevant:
"If you are a bank in Oklahoma and you need to make a payment to Mexico or Vietnam, unless you have relationships with banks in those countries already, you're going to need an intermediary bank…If the two banks don't have the relevant KYC information, they're not allowed by their compliance departments to send or receive payments between each other because they don't know each other. In this situation, the only way to get to get a payment to a bank in Vietnam is to go through a correspondent bank. Whether that's using SWIFT or another provider, it has nothing to do with the technology, it's to do with legal, contractual and compliance agreements between banks."
Swift says the GPI (global payments innovation) system is delivering payments fast regardless of regulatory complexities: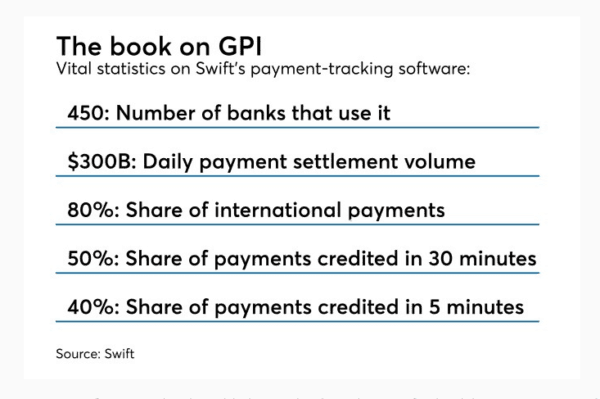 According to the global head of payments and receivables at Citi, Swift's GTI is als0 a better interface than Ripple's on 5 bases- cost, speed, transparency, convenience and security:
"With GPI, we can see the charges banks have made along the way and how long they have taken to process a payment…Seeing how much each bank is deducting puts pressure on the ecosystem to reduce costs. If customers can see how long a bank is taking to move a payment, that forces banks to move toward faster processing or straight-through processing and speed up the time that it typically takes to send money across borders."
Swift's GPI also reportedly includes: 'Stop and Recall Payment' features:
"If a sending bank sees a possible error, fraud or cyber-incident, it could ask to have a payment stopped and recalled within GPI. In the past, the bank would have to call up the various banks downstream and ask for the payment to be returned."
According to Kohli, Citi is pleased with the Swift GPI system:
"We're strong believers in GPI."
Sponsored Links by DQ Promote