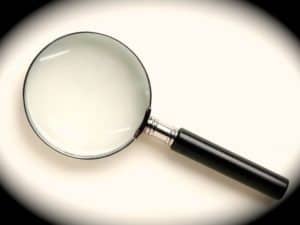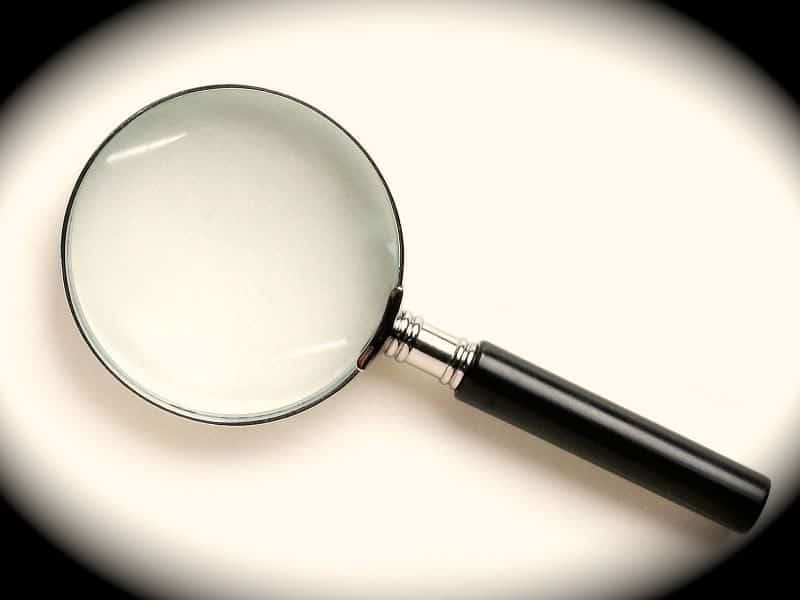 Blockchain forensics firm Chainalysis has blogged to address possible concerns that its services could be being used to violate crypto users' privacy.
The company's statement comes after controversy erupted last week when it was revealed that Coinbase, a large American crypto trading platform, had acquired Italian digital-forensics firm Neutrino.
Coinbase says it hired Neutrino to up its KYC/AML (anti-money laundering/terrorist finance) game as it handles increasing volumes of cryptocurrency transactions.
A division of Neutrino called "Hacking Team," however, has been arousing the ire of digital privacy advocates and concerned individuals for years for helping law enforcement agencies, including arms of repressive regimes, to monitor suspected criminals and dissidents.
Motherboard reported in 2015 that the American Drug Enforcement Agency (DEA) has been using Hacking Team "Remote Control System (RCS)" software to secretly monitor phones, texts, Skype calls and social media of targeted individuals since 2012.
Hacking Team tech has also reportedly been used by state agencies to collect passwords and activate webcams and microphones on devices without users' knowledge- and not necessarily with warrants in place.
A #DeleteCoinbase campaign erupted on social media last week when Coinbase's acquisition of Neutrino was announced.
Coinbase responded this week by stating that it had failed in its due diligence process when it acquired Neutrino based on the company's technical prowess alone.
Coinbase also promised to fire all Neutrino staff with a history of working for Hacking Team, whether they still work there or not.
Now Chainalysis, which also boasts numerous law enforcement clients, is attempting to get ahead of the storm by explaining how its business is focussed.
The company begins the post by explaining current levels of transparency on blockchains like Bitcoin:
"Blockchains make cryptocurrency transaction data public and permanently available. They record when a transaction happened, the amounts transacted, and which addresses were involved. However, they do not contain information about the real-world service behind a transaction."
The company says that it mainly provides assistance with and enhances anti-money laundering compliance at companies handling crypto trades:
"…Cryptocurrency businesses and financial institutions need more context beyond just transaction amounts to comply with anti-money laundering (AML) regulations. These regulations require them to identify and report user activity that is indicative of money laundering…We put cryptocurrency transaction data incontext for our customers by labeling addresses with the real-world entities that control them."
The post does not mention the company's involvement with law enforcement agencies.
Without an automated system of identifying crypto transaction origins, data must be sifted by humans, an impossible task given transaction volumes, says Chainalysis.
Chainalysis software essentially "decodes" crypto address alphanumeric strings and attributes them to "real time entities" of whatever legitimacy.
The company gives the example of two long alphanumeric address strings translated as "sent from BTC-e (trading platform) to Silk Road (dark market)."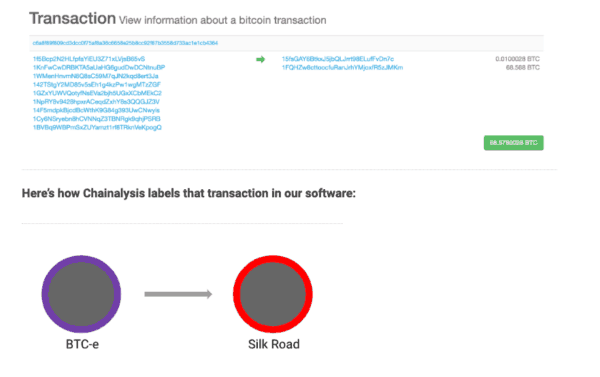 The company is careful to point out that it, "identif(ies) services and (does) not label individual users' wallets."
Any such linking must be done by an entity employing Chainalysis software, says the company:
"Any link from a transaction back to the person or people involved in that transaction must be made outside of Chainalysis because we do not collect any personally identifiable information from exchanges."
The company admits that it does, "flag…transactions based on indicators of risky behavior. For example, we will flag a transaction if we identify the counterparty as an illicit service, such as a darknet market or terrorist financing organization."
Chainalysis ends the post by placing itself on the legitimate-use side of crypto:
"Ultimately, compliance and investigations solutions like ours build trust in cryptocurrency as a safe way to move value across the world."
Avowedly libertarian Bitcoin (cash) news site Bitcoin.com recently published an article called "Forensic Analysis of Blockchain Surveillance" companies in which the author stated that Chainalysis, "are in the pocket of law enforcement…their most valuable clients."
The author also claimed that:
"Chainalysis' 'Know Your Transaction, software, while purportedly designed to thwart money laundering, has a wealth of applications, most of which have little to do with stopping serious crime. In libertarian cryptocurrency circles, Chainalysis is a very dirty word."
Sponsored Links by DQ Promote