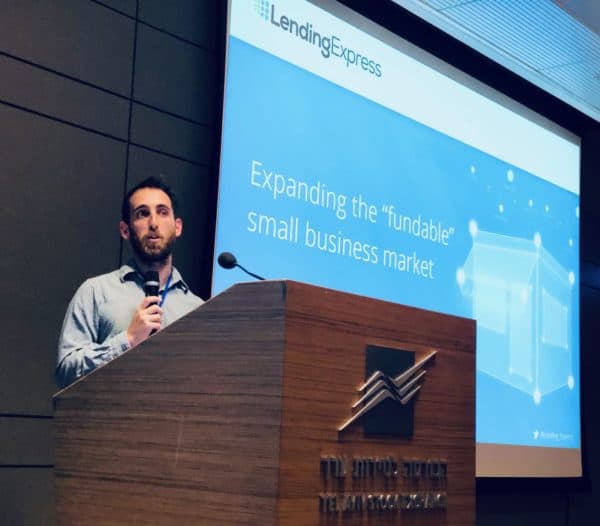 Lending Express is a Fintech on a mission to become the leading site for SME lenders – globally. Lending Express has offices in both the US and Israel, which has a hot Fintech sector. To date, the site has helped to fund over $125 million supporting more than 120,000 small businesses. Over 50 business lenders are represented on the platform providing a variety of options for business borrowers.
The Lending Express site provides a different approach to online lending as it is not a direct lender but provides a valued service to match online lenders with small businesses. The company's technology creates a proprietary "LendingScore" that evolves over time. The score is designed to more accurately evaluate borrower risk more while helping SMEs find better borrowing terms. It's a big win for the borrower as there is no fee to them and it simplifies the overall borrowing process.
Key to the service is the coaching provided by the platform. In a recent presentation, Eden Amirav, co-founder and CEO of Lending Express, cited an example of a small business borrower that utilized the service. Following Lending Express's fairly simple recommendations, a previously denied SME boosted its LendingScore and received a small loan ($20,000) in less than a day. Can a bank do that? Not really. At least not yet.
Amirav previously founded the largest lead-gen firm in Israel that targeted traditional marketing but this newest venture is purely focused on SME lending.
Amirav recently sat down with Crowdfund Insider following a presentation he delivered at Tel Aviv Fintech. He provided some additional perspective into his business.
While lead generation is a portion of Lending Express, Eden was quick to explain its just one small part of the bigger picture. While they do get paid by the lender when a business is funded there is more value to his service instead of a simple match-making service. The LendingScore creates a dashboard for a business which creates an ongoing touchpoint where they can return for future credit needs.
Lending Express is currently processing $10 million each month. A small amount in the bigger online lending picture but the platform is getting bigger and the addressable market is substantial.
So who does Lending Express compete with? Eden says there are several more traditional lending brokers that provide an overlapping service but he believes they are not really true competition.
"We are really trying to change the market of funding .. not only help those prime businesses that are fundable at the point the come where most of the marketplaces are focused [on], we are really trying to unlock a new segment of businesses by providing them with the tools as to how they can become fundable."
These are businesses that may not be generating any money and it is Lending Express's goal to help them get to the point where they can effectively borrow the money they need. When have you ever heard a bank lender say that?
Eden says there are about 28 million small businesses in the US and only 42% of them are getting access to funding. That is his addressable market.
"The majority of businesses do not have any option to fund their business."
He hopes that Lending Express can increase the percentage of businesses able to get funding significantly. They seek to provide the very best option for the borrower at any given time and strive to provide transparency and clarity about what they are getting.
The LendingScore is key to their business as they teach businesses, over time, how they can improve to lower the cost of their borrowing.
"There is still so much to do in that area … in the business world it is so much more complicated."
Amirav is also quick to point out they accept only high quality lenders with reasonable terms. Last year, they booted some lenders  which did not meet their standards.
Quality Pays
Lending Express's approach to lending is viewed as a superior process, according to Amirav. This means they receive more money for their matchmaking:
"Typically we get paid more due to the quality of the borrower and the reduction of operational risk to the lender."
Asked about his expectations for the company, Eden said that he and his other co-founders have already had a good exit or two. This time around they are really excited about building a bigger company. They hope it will be their legacy company. A big brand that will be really well known for all small businesses in the United States (and eventually elsewhere):
"If they want funding, there is one place you will enter for your funding journey. Usually, it is not just for one time. You may get a line of credit, you improve your terms going on … the idea is to give them a product for free that improves their options going forward."
Asked if they would ever consider direct lending and Eden says they will never go down that path.
"We will not ever do anything that will jeopardize our business."
For the next year or two, their plans are just to focus on their two primary markets: the US and Australia.
Lending Express has already accepted venture funding with part of the money coming from crowdfunding platform iAngels. Eden said to expect an announcement soon regarding an A round. Hopefully, the new funding will provide the fuel for Lending Express to become the main lending platform for SMEs and all online lenders.
"The whole challenge … It is very, very complex. We are really trying to be the best at that."

---
Sponsored Links by DQ Promote