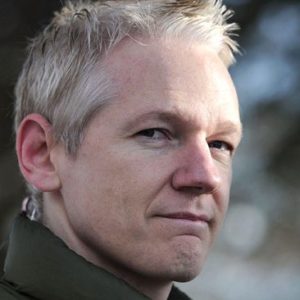 Julian Assange, the controversial founder of the transparency group Wikileaks, was arrested by British police and removed from the Ecuadorian embassy early this morning.
A statement from London's Metropolitan Police reported by the Washington Post indicates that Assange was, "arrested on behalf of the United States authorities…(and would) appear in custody at Westminster Magistrates' Court as soon as possible."
Assange supporters on social media and the Wikileaks organization have been calling for donations, and a bitcoin address has been established for this purpose.
At press time, 3.6896 Bitcoins (~$19 500 USD) had been collected at the address established for the campaign.
Wikileaks began accepting cryptocurrency donations in 2010 after MasterCard and PayPal blocked payments to the organization.
Assange took refuge in the Ecuadorian embassy 7 years ago after reportedly "jumping bail" in Sweden, where he was accused of sexually assaulting two women.
The Guardian furnished the following statement about Assange's arrest from lawyer Elisabeth Massi Fritz, who represents one of the Swedish complainants:
"My client and I have just received the news that Assange has been arrested. That what we have been waiting and hoping for for almost seven years has now happened is clearly a shock to my client. We will do everything we can to ensure that the prosectors resume the Swedish preliminary investigation so that Assange can be extradited to Sweden and prosecuted for rape."
Assange and supporters have argued that, if extradited to Sweden, Assange would subsequently be handed over to US authorities.
Assange's arrest time this morning corresponds closely with the issuing of a tweet by Ecuadorian president Lenín Moreno at 6AM EST.
The tweet states, "In a sovereign decision Ecuador withdrew the asylum status to Julian Assange after his repeated violations to international conventions and daily-life protocols."
The Washington Post reports that the arrest came shortly after the unsealing of an indictment from US authorities alleging that Assange conspired in 2010 with Chelsea Manning to publish secret military documents obtained by Manning.
Biography writes that Manning endured harsh bullying in the Army, and that after being sent to Iraq, where she, "…had access to classified information that she described as profoundly troubling…gave much of this information to WikiLeaks and was later arrested after her actions were reported to the U.S. government by a hacker confidant."
According to the WikiLeaks website, the organization is, "a multi-national media organization and associated library…(which) specializes in the analysis and publication of large datasets of censored or otherwise restricted official materials involving war, spying and corruption. It has so far published more than 10 million documents and associated analyses."
The organization became something of a household name in 2007 when it released a shocking video of the so-called "collateral murder" of civilians and two Reuters journalists committed by US soldiers in Iraq.
But initial support for Wikileaks and Assange has faltered after the organization was accused of putting lives at risk by publishing documents that may have contained the names of American assets living in dangerous regions.
Politifact reports that Senator John McCain opposed President Obama's decision to shorten Chelsea Manning's, "unusually long prison sentence."
In a Jan. 18, 2017, interview, McCain told Fox News host Bill O'Reilly that, "The Taliban went after and murdered," assets identified in the Chelsea Manning leaks.
Assange has also been accused of aiding the Trump presidential campaign by facilitating its access to emails allegedly stolen from the Clinton campaign and furnished to Wikileaks by Russian agents.