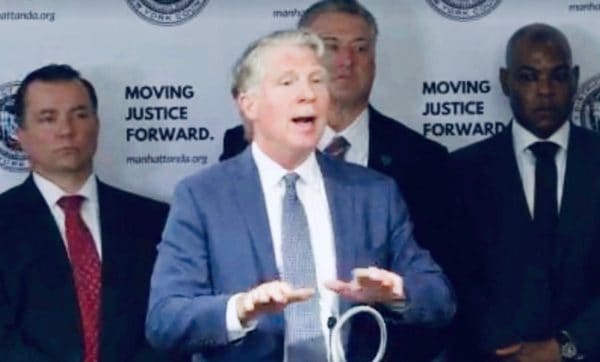 Three New Jersey men have been indicted in what the New York District Attorney claims is the largest seizure of illicit pills ever executed in New Jersey State.
The accused, Chester Anderson, 44, Jarrette Codd, 41, and Ronald McCarty, 51, allegedly ran drug "store fronts" on the Dark Net, where they took payment in cryptocurrencies.
The cryptocurrencies were subsequently deposited onto pre-loaded debit cards which were then used to withdraw more than $1 million from ATMs in Manhattan and New Jersey, New York claims.
All told, the accused allegedly laundered $2.3 million USD in drug proceeds using cryptocurrencies.
New York District Attorney Cyrus R. Vance says police were alerted to the three men's conduct when "suspicious activity" was detected at ATMs in Manhattan and New Jersey:
"When our office received reports of suspicious activity at ATMs in New York and New Jersey, our talented investigators followed the money, using our state-of-the-art Cyber Lab to uncover a dark web counterfeit pill seller whose $2.3 million operation spanned the U.S."
Police reportedly made numerous of undercover purchases of pills and, "identified more than 1,000 packages that were shipped by the defendants from New Jersey to locations across the country."
Interception of these packages led to the seizure of 8,000 illicit tablets by in addition to the approximately 420,000 to 620,000 alprazolam tablets, 500 glassines of fentanyl-laced heroin and "quantities" of methamphetamine, ketamine, gamma-hydroxybutyric acid (GHB) seized when police executed raids on the men's New Jersey properties and vehicles.
The men appear to have been involved in the counterfeit production of Xanax, an anti-anxiety medication and anti-depressant.
Police also seized four pill presses and two industrial mixers as well as "other drug manufacturing items," and thousands of dollars of cryptocurrency at the scene.
In addition, police claim:
"Anderson and Maccarty created a shell company, Next Level Research and Development, to purchase more than 1,000 kilograms of microcrystalline cellulose, the primary ingredient used to manufacture pharmaceutical tablets. They also used Maccarty's cellphone repair store, The Wireless Spot, to purchase a pill press, a powder mixer, and 'punch dies' used to imprint 'Xanax' labels on alprazolam pills."
All three men are charged with Conspiracy in the Fourth and Fifth Degrees, as well as Money Laundering in the First Degree. Anderson is also charged with multiple counts of Criminal Sale of a Controlled Substance in the Fourth and Fifth Degrees, and Identity Theft in the First Degree.
Court documents claim that:
"Anderson operated two dark web storefronts, using the screenname "sinmed," to sell alprazolam and other controlled substances. Code and Maccarty assisted with manufacturing and equipment procurement. Over the course of the conspiracy, undercover Manhattan D.A. investigators purchased approximately 10,000 alprazolam tablets, in addition to ketamine and GHB, from the sinmed storefronts."
The investigation was conducted jointly by the New York District Attorney's Office, New Jersey State Police, the Middlesex County Prosecutor's Office, Lt. Jeff Russo of the South Brunswick Township Police, David Roesner of the U.S. Secret Service, and Michal Lawshe of the USPIS.
Regarding the bust, Edward Gallashaw, USPIS Assistant Inspector in Charge, stated:
"Dark web operators should know when you make the US Mail a party to your illicit deeds, you bring not only Postal Inspectors but the full weight of law enforcement to stop you in your tracks from victimizing the public."
New York District Attorney Vance warned that state action against drug dealers is only a matter of time:
"If you are engaging in illicit activity on the dark web, you are on notice: we know how to find you, we know how to put you out of business, and we know how to hold you criminally accountable."
Vancce also urged the public to assist authorities in combating Internet-based crime:
"If you would like to report crimes committed on the dark web or anywhere else, please call our Cyber hotline at 212-335-9600."
Sponsored Links by DQ Promote