Binji, a U.S.-based Fintech startup, announced the launch of its new personal finance solution. The company reported that its digital display debit Mastercard works in tandem with its mobile app. The platform also offers the ability to consolidate up to 24 credit and debit cards into a single card to use as funding sources for each Binji Account and enables users to engage in peer-to-peer payments with instant access to funds.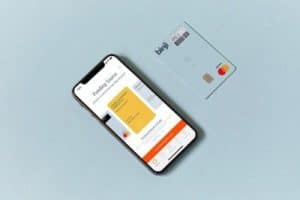 Founded in 2018, Binji is on a mission to create banking solutions that make users lives easier by empowering them to take control of their financial well being. The company's card allows users to consolidate and fund their Binji accounts from up to 24 debit or credit cards and works in tandem with a full-service digital banking app. While sharing more details about the launch, Ryan Marquis, CEO and co-Founder of Binji, stated:
"We saw an opportunity to improve people's lives by streamlining their finances through the convenience of offering app-based banking, card consolidation, and peer-to-peer payments on one platform. We're offering consumers something that, until today, didn't exist: With just a push of a button on the Binji Card's user interface, consumers can now transfer funds from up to 24 different debit or credit cards into a single spending account."
The company's card and mobile app's features include the following:
Card Consolidation: The Binji Card can store up to 24 third-party debit and/or credit cards to be used as funding sources to your Binji Account so it can serve as the only physical card you need to have with you to shop in-store and online.
Digital Display Screen: Binji Card's digital display screen shows the current balance of your Binji Account, the last four digits of the selected funding source, and a four character "nickname" for fast identification.
Easy To Use: Consumers select their funding source by using the two-button interface to scroll through synced accounts. Once selected, the user simply holds the down arrow button to initiate the transfer of funds from any synced debit or credit card to their Binji Account.
Save Money: The Binji App is free to download in the Apple App Store and Google Play and eliminates monthly and overdraft fees.
Advanced Security: The Binji Card transmits information through its secure, cloud-based processing engine.
The platform's features also include:
Peer-To-Peer Payments (P2P): Instantly pay, receive, and request money from friends with Binji's P2P payments service. Unlike other services, you can use these funds immediately from your Binji Card without having to transfer to a third-party bank.
Direct Deposit: Binji Spending Accounts are direct deposit-ready, and each has a unique account and routing number.
Early Access to Paychecks: Users who enroll in Binji direct deposit get access to their money up to two days earlier than what's offered by establishment banks. (Subject to originator ACH effective date)
Access to All Your Credit and Debit Cards: The Binji Card provides access to money in your Binji Account, which can store and be funded by up to 24 debit or credit cards at the push of a button. The account may also be funded with direct deposit or when friends send money with P2P.
Accepted Worldwide: Binji can be used with any point-of-sale machine, including internationally, that accepts debit Mastercard.
Battery Life: On average, Binji Card's battery lasts up to three years, which will typically cover the lifespan of the card from issue through expiration date.
Bluetooth Connectivity: The Binji Card and app communicate via smartphone Bluetooth connection so you can add and select funding sources on the go.
ATM Withdrawals: Binji's in-app GPS map shows the location of fee-free ATMs near you. There are over 35,000 total fee-free ATMs in Binji's network.
Binji Cards may now be purchased through the platform for $89 and the app is free.
---
Update: As was correctly pointed out in the comments, Marquis was previously CEO of Plastc, which was a Fintech that ran out of money several years ago. Plastc sold more than $5.2 million of their product, a single card that could hold the information of multiple cards. The company's cards were originally scheduled to ship in the Summer of 2015, but experienced delays up until the end of 2017, when the company shut down. Plastc's assets were acquired by Edge Mobile Payments, according to a post on its website.
Peter Garrett, founder and CEO of Edge, stated at the time:
"While Plastc ran out of funding before it could ship a completed product, the company made significant progress in engineering and marketing a dynamic payment card. This acquisition will accelerate our production timeline and move us closer to what the public wants: a dynamic payment card with improved security that consolidates all your cards into one."
It is not immediately clear if Edge is still in business.

Plastc backers who prepurchased the cards ended up with little more than a good (or bad) story.

Sponsored Links by DQ Promote