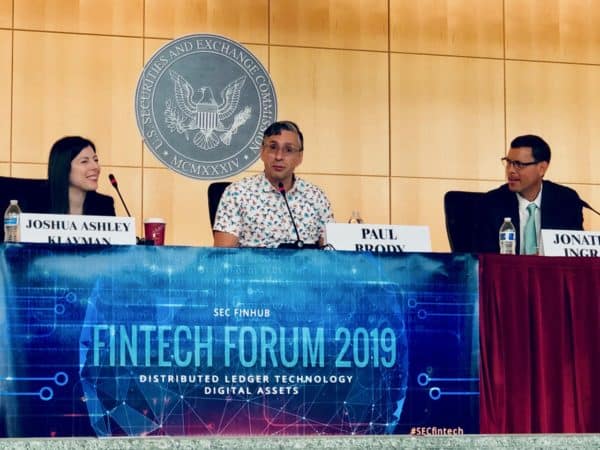 Global consulting firm EY (Ernst & Young) has released its research into  the creation of "…a set of smart contracts and microservices,…(using the) ZoKrates zk-snark toolkit, to enable standard ERC-20 and ERC-721 tokens to be transacted on the Ethereum blockchain with complete privacy."
Software for the project, dubbed "Nightfall," was issued on open-source (public) software repository Github today, and the event was concurrently announced by EY's Global Innovation Leader Paul Brody at the SEC's Fintech Forum currently underway in Washington, DC.
The term "ZoKrates zk-snark toolkit" refers to ZKPs (zero-knowledge proofs).
Simply put, ZKPs are a data-encryption feature that allow parties in a transaction to verify that data has been transmitted without that data being revealed.
"Privacy cryptocurrency" ZCash already uses ZKPs to make transactions on its blockchain largely inscrutable.
According to text accompanying EYs Nightfall commits on GitHub, "(EY) decided to share our research work in the belief that this will speed adoption of public blockchains."
The company warns interested parties that Nightfall is currently, "…an experimental solution and still being actively developed…(and) not intended to be a production-ready application…"
EY encourages experimental use of Nightfall, "If it accelerates your own work," but again warns that the code is released only so that it might be tested and advanced by others:
"Note that this code has not yet completed a security review and therefore we strongly recommend that you do not use it in production or to transfer items of material value. We take no responsibility for any loss you may incur through the use of this code."
As is consistent with other blockchain-based applications, experimenters are advised that, "The application is compute-intensive and so a high-end processor is preferred."
As well, "Depending on your machine, setup can take one to several hours…(and) Mac and Linux machines with at least 16GB of memory and 10GB of disk space are supported."
In the spirit of open source, EY states:
"We hope that people will feel motivated to contribute their own ideas and improvements."
Cryptographers and "crypto-anarchists" have been working passionately since the 1980s to create a digital system that mimics the properties of real-world cash, including 'fungibility' and anonymous use.

Law enforcement and regulatory personnel have increasingly expressed concern about how Internet-borne and global cash-mimicking systems like Bitcoin and Monero have been used to facilitate transnational crime, fraud, espionage, money laundering and terrorist finance.

Digital cash advocates have argued that private digital cash systems are needed to resist totalitarianism, both local and global.

Sponsored Links by DQ Promote