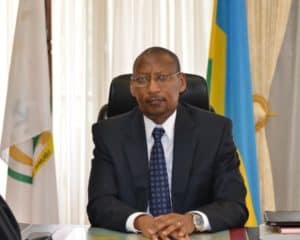 John Rwangombwa, Governor National Bank of Rwanda (BNR), has issued a notice alerting Rwandan citizens, "to the existence of investments scam(s)…operating in Rwanda (through locally-registered businesses or from abroad through online platforms)."
The warning also states that pyramid, multi-level marketing and fake initial coin offering (ICO) scams are are illegal in Rwanda, that people investing in these schemes, "…are very likely to lose their money," and that the National Bank of Rwanda, "…will not safeguard any person who invests in pyramid schemes or any other related activities."
The notice names Supermarketings Global Ltd, 3 Friends System Group Ltd and Onecoin or Kwakoo (OnyxCoin) as examples of but a few investment scams that have come to the BNR's attention.
The notice details how such scams are structured:
"These scams require a client (recruit) to pay a fixed amount of money to the scheme promoters as a membership fee or initial investment and promise to pay a certain amount of money for the recruitment of new participants…plus high interest in the investment amount."
Pyramid schemes may be either standard, meaning they involve "the mandatory purchase of goods (medicines)…services (travel packages)…or intangible properties (such as digital coins)," or 'naked,' meaning there is no product to promote and the scheme is exclusively financial.
"The common factor with these schemes is the promise to make the participant rich in a short period and with minimum effort," the notice states.
Investors in Rwanda are advised to consult a list of "licensed deposit-taking financial institutions at www.bnr.rw  and a list of licensed asset managers and securities brokers at www.cma.rw.
The notice from the BNR was posted to Twitter on May 30th.
In April, Microsoft released a report that found that, out of all the countries in the world, ransomware and cryptomining hackers are finding the most success in Ethiopia, Cameroon, Tanzania and Zambia.
"Ethiopia, Tanzania and Zambia account for three of the top five nations most impacted by cryptocurrency mining. With encounter rates well above the global average at 5.58, 1.83 and 1.13 % respectively."
Even so, Microsoft's analysis of over 6.5 trillion "daily threat signals" from 2018 still painted a positive picture of an overall 73% decline in ransomware attacks across the globe last year.

Sponsored Links by DQ Promote