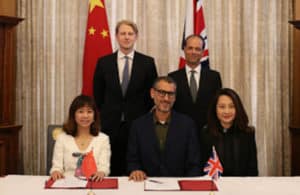 The Vice Premier of China, Hu Chunnhua, is visiting UK government officials this week. As part of the tour, the UK government has announced a series of deals designed to boost trade with China including financial services.
The new business deals were agreed to by British and Chinese companies as part of the 10th UK China Economic and Financial Dialogue (EFD) taking place in London this week.
Secretary of State for International Trade, Liam Fox MP, commented on the economic agreements sayin the UK is a key partner of China and the country's most important trading partner in Europe:
"Today's announcements show the breadth and depth of our trading relationship, the success UK firms are having in China, and the huge opportunity the Chinese market holds for British companies, particularly with regards to market access," stated Fox. "As an international economic department, DIT will continue to support UK businesses to increase their share in this growing market and build on our substantial export figures, as we progress towards leaving the EU."
The UK has been aggressively pursuing across the board bilateral agreements in the run up to Brexit – which has now been extended until October. While financial services is just part of the agreement as bilateral deals were made in other industry sectors, it will be interesting to see how the relationship manifests itself over time. China is an enormous market and arguably the largest Fintech market in the world – and in some areas the most advanced.

Multipass and UnionPay have agreed to jointly create a payments platform to expand the reach of UnionPay beyond the borders of China.
The Chinese government has promoted a diverse array of Fintech services from blockchain to payments to online capital formation and more.
Regarding financial services, the following agreements were signed with the UK government this week:
A new UK-China Fund, targeting £1 billion delivered in partnership by Charterhouse Capital, China Investment Corporation and HSBC to invest in UK SMEs with growth plans linked to China.
Industrial Bank of China announced the opening of a new representative office in London, set to create 70 new jobs. The London Representative Office is expected to become an important base for the global initiatives of Industrial Bank.
MultiPass International and UnionPay International concluded an MoU to develop a digital payment platform to further expand issuance and acceptance of UnionPay branded cards outside mainland China. The new partnership is expected to create 105 new jobs over the next 3 years.
Fosun have acquired a majority stake in Tenax Capital to help build out their footprint in the European asset management space and to help bring European investors to China.
Redington's Chinese subsidiary, Yuyuan Technology has signed commercial agreements with Taikang Life and Aviva-Cofco Life to provide interactive asset liability management tools.
OakNorth, Baillie Gifford and VCP Advisors have announced that they will set up a Wholly Foreign-Owned Enterprise (WFOE) in China.
China Banking Association, Shanghai Stock Exchange, China Investment Corporation (CIC), The Industrial Bank and CITIC Bank have announced they will be upgrading existing branches, opening representative offices or opening new branches in the UK.
Establishment of Heng'An Standard Life's (HASL) pension insurance business, the first awarded to a foreign- invested business in China.
Schroders have been awarded Qualified Foreign Limited Partner (QFLP) licences and quotas.
XTX markets will become the first foreign non-bank market maker on the CFETS's G10 market.
Sponsored Links by DQ Promote