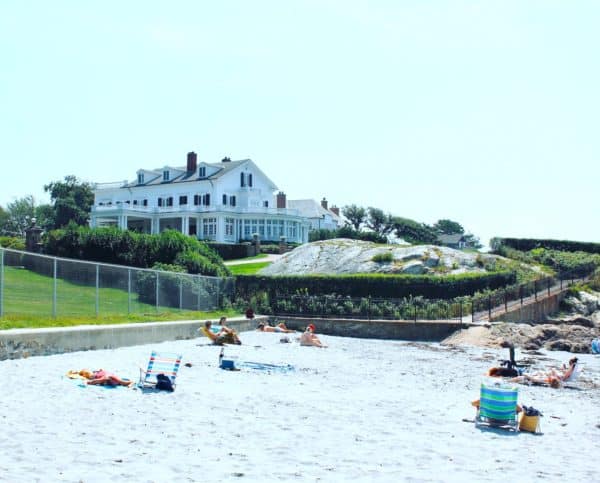 The Rhode Island Department of Administration/Division of Purchases is soliciting, "…proposals from qualified firms to provide a limited Proof-of-Concept implementation of the use of Blockchain technology to further the State's goal of becoming more efficient, transparent, accurate, secure and business-friendly…"
Deadline for submissions is Friday, June 21st at 2pm EST.
For the purposes of the competition, blockchains / distributed ledgers are defined as:
"…(A)n expanding list of cryptographically-signed, irrevocable, immutable transaction records shared by all participants in a network. Each record contains a timestamp and inherent, programmatic reference links to previous transactions. A public blockchain or distributed ledger provides open participation to anyone or any entity where access is not controlled by a central intermediary or a subset of participants. A private blockchain or distributed ledger is one in which participation is restricted by governance rules or managed by a central entity or a subset of participants."
The Rhode Island Department of Administration has established clear goals for this request for proposals (RFP):
"gain a detailed knowledge of the maturity of blockchain technologies and platforms…(and their) suitability to the business operations of the Rhode Island State Government"
"inform the state with respect to the ease and simplicity by which consumers can interact with the Blockchain solution to both record their licensing or other information."
"gain technical and business experience in executing blockchain transactions and leveraging canonical information stored on a blockchain."
"assess potential security advantages and disadvantages inherent in blockchain technology…"
"gain understanding of the intersections and complexities of employing a blockchainbased solution in a traditional computing environment, particularly as it pertains to interactions with legacy systems"
"identify potential cost-savings of a blockchain-based solution over traditional/legacy platforms or processes."
"inform strategic technology planning vis-a-vis the potential impact of blockchain technologies on core government duties, supporting infrastructure, and budget cycle variability"
"identify opportunities for future collaboration with local governments, other states, the Federal Government, and industry coalitions to mutual benefit."
etc.
Suggested proposals may cover the following areas (but are not limited to): antifraud, contracts, medical marijuana, evidence chain of custody, records, notarization, registration and licensing, shareholder policy or voting, crowdsourcing.
The state is hoping to innovate:
"The State strongly encourages Vendors to propose innovative ideas and solutions for this Proof of Concept in the Blockchain space that would benefit State of Rhode Island."
Contracts will begin shortly, on August 13, 2019, "for a timeframe determined by the scope of the chosen use case."
Projects will be evaluated based on the concept and not the cost:
"This is a Request for Proposals, not a Request for Quotes. Responses will be evaluated on the basis of the relative merits of the proposal, in addition to cost."
Participants will be publicly listed, but proprietary information will be guarded:
"…(T)here will be no public opening and reading of responses received by the Division of Purchases pursuant to this solicitation, other than to name those offerors who have submitted proposals."
Some critics, including Bitcoin programmer Jimmy Song and system administrator David Gerard have argued that most so-called "blockchain" applications can be accomplished with modifications to standard databases.
The Rhode Island Department of Administration may be open to such proposals as well:
"Alternative approaches and/or methodologies to accomplish the desired or intended results of this RFP are solicited."
Costs of submission must be borne by the vendor and, "…proposals are considered to be irrevocable for a period of not less than 180 days following the opening date, and may not be withdrawn, except with the express written permission of the State Purchasing Agent."
Proposed costs must be realistic:
"All pricing submitted will be considered to be firm and fixed unless otherwise indicated in the proposal."
Initial proposals are technical, and chosen vendors will be expected to do a proof-of-concept vendor demonstration / interview.
Cost proposal documentation must also be submitted, but "…will not be factored in during the Scoring of this solicitation."
Proposal scores will be determined as follows: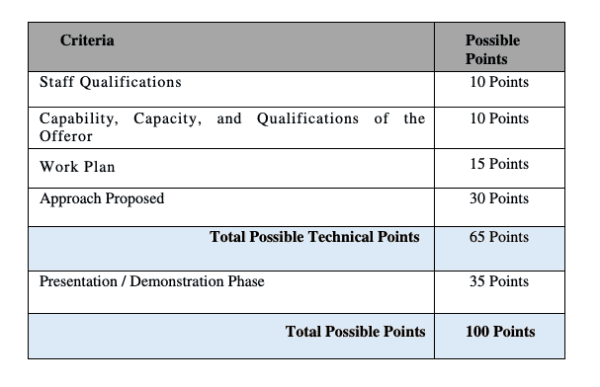 Vendors will have to adhere to state equal-opportunity hiring and anti-harassment policies.

The competition is open to foreign companies possessing a certificate of authority to do business in the State of Rhode Island, and applicants must register online at the State Purchasing Website at www.dop.ri.gov, and submit by Friday, June 21st.

Sponsored Links by DQ Promote