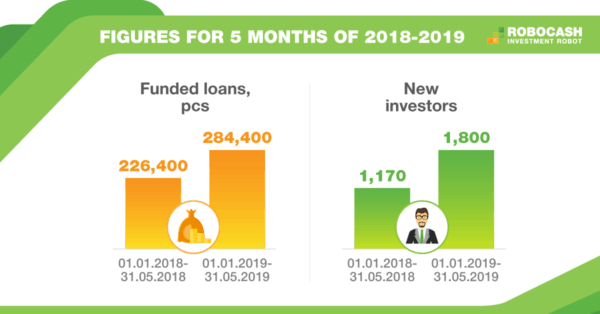 Robo.cash is reporting its millionth loan funded. According to the peer to peer lending, for the first five months of 2019, the platform has shown a 26%-increase in the number of funded loans and a 54%-increase in the amount of new investors, compared to the same period last year.
Founded in Russia, Robo.cash – part of the Robocash Group, says it has financed €89 in total in Europe. The loans are typically smaller, short term consumer loans.
Loans funded through the first five months of 2019 are pegged at 284,400 versus the year prior period of 226,400 – a significant increase.
Regarding individual investors, from January to the end of May 2018, the platform was joined by 1,170 new investors. In comparison to the same period in 2019, the number of investors has risen by 1,800. Overall Robo.cash says it has 6,700 registered users.
Sergey Sedov, CEO of Robocash Group, issued the following statement:
"Increasing interest of investors in alternative lending is observed against the explosive growth of this market. According to the Cambridge Center for Alternative Finance, the volumes of alternative lending in Europe, except for the UK, grew on average by 82% annually from 2015 to 2017. In the APAC countries excluding China, the average growth amounted to 80%. We can expect a similar trend in the future, as the market is still far from being saturated. The dynamic development of the alternative lending industry attracts investors with its novelty, prospects and relatively high interest rates compared to bank deposits. Therefore,  this market is developing to a great extent due to the attraction of funds from private investors."
Robocash is open for investors throughout the European Union and Switzerland. The company is part of the holding Robocash Group providing financial services in eight countries in Europe and Asia.